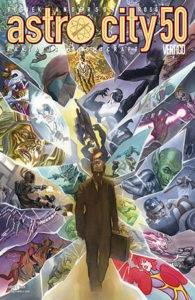 Astro City #50 Review
Vertigo Comics
Written by Kurt Busiek
Art by Brent Anderson
32 pages for $3.99
Solicit: Michael Tenicek lost his wife, years ago, to a chronal cataclysm. But he's not the only one in Astro City whose life has been upended by life among the superheroes. Today, we'll meet others, learn their stories and see how Michael-and friends-cope with their trauma.
To my eternal shame, I haven't been current on Astro City in years. It's not like it's the sort of title that punishes people for jumping around from arc to arc, but I was such a huge fan that I couldn't bear to just jump back in without catching up on what I missed. But I had to come back for this issue. Not only is it a milestone issue, but it's the kickoff to a multi-part sequel to "The Nearness of You," which is considered by many to be the best Astro City story ever, and one of my favorite comic books of all time.
Years ago, Michael Tenicek lost his wife. More accurately, his wife never existed, erased from the timeline by a cosmic event. But Michael remembers, and has lived with that memory for two decades. These days, Michael devotes all of his time to running a support group for people who have lost loved ones to superhuman violence. He's funded by a mysterious benefactor who must approve of what he's doing. Michael still remembers his wife, but instead of being crippled by his loss, he helps others cope with theirs.
Like many of the best Astro City tales, this story is about the people that inhabit this world, not its heroes. Astro City's greatest strength has always been in showing what life is like in a place where the extraordinary is ordinary. Busiek's script is full of humanity and emotion. The support group's stories ring just as true as if the were about normal human tragedy, instead of stray laser blasts flying through apartment windows. This is a multi-part story, and this issue ends on a cliffhanger that has me really curious, but I would have been perfectly happy with a one-shot tale showing us how Michael's life has unfolded in the 20 years since we last saw him.
Brent Anderson is a legendary artist, but his style may not seem as eye-catching to modern readers. I'm a huge fan of his heavy line and expressive storytelling. He's able to capture so much emotion in the faces of his characters, and his work on Astro City looks just as good today as when I first saw it in the mid-90s.
You don't have to be up to date on Astro City to enjoy this issue. It's not even necessary that you read The Nearness of You. Busiek and Anderson give you everything you need to follow along and get invested in Michael's story. But if you're a long-time fan, you'll find a lot of extra meaning in Astro City #50.
Rating: BUY IT.
——————
Joe Patrick is the Co-Founder and Co-Host of the Two-Headed Nerd Comic Book Podcast, and the Editor-In-Chief of twoheadednerd.com. If he could have built a career out of correcting Matt Baum's mistakes, he would have left you all behind years ago.