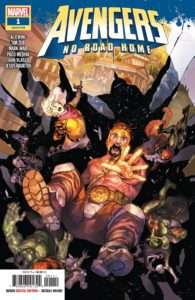 Avengers: No Road Home #1 Review
Published by Marvel Comics
Written by Mark Waid, Al Ewing, and Jim Zub
Art by Paco Medina
Solicit: The team that brought you AVENGERS: NO SURRENDER REUNITES for an all-new weekly AVENGERS adventure! Night has fallen across the universe. Now seven Avengers – and one new addition – journey forth to bring back the light. But when the threat they face has destroyed even the gods…will anyone make it home?
Suggested Soundtrack: The Sciences by Sleep
I forgot how much I enjoyed Avengers: No Surrender and now the band is getting back together for another romp. And of course, Hercules is here. I love Herc as an Avenger so damn much so I'm automatically on board. Plus, Al Ewing brings his Blue Marvel and Spectrum back to the party, along with his terrifying Hulk.
Once again, something terrible is happening and only a wacky group of Avengers we don't normally see in the monthly title can save the universe. This kind of premise gets me every damn time and when Paco Medina is on art you know you're in for a fun ride.
Unlike the recent Uncanny X-Men run that saw a three-headed writing team fighting to capture the spotlight, Zub, Waid, and Ewing meld into a single-minded creative giant spinning a tale of grave danger that only this ragtag group can hope to stop.
Look, I'll read anything with Marvel's Hercules involved, so I'm an easy mark here, but I did not expect to have this much fun reading this first issue. I love B-list Avengers, Paco Medina, and Rocket Raccoon even shows up. Is this Avengers: No Road home reinventing the comic book? No. Is this ridiculous heavy metal comic booking with a fantastic cast and kick-ass art? Fuck yeah, it is!
Rating: BUY IT