Podcast: Download
Subscribe: Apple Podcasts | Google Podcasts | Spotify | Amazon Music | Android | Blubrry | Podchaser | TuneIn | RSS | More
Welcome to Two-Headed Nerd Episode #683: Cosmic Longbox Back Issue Reviews – 80s & 90s Slasher Comics! Our sentient Cosmic Longbox has us reviewing back issue comics based on a theme! This time the cosmic long box is chasing the nerds with a chainsaw in one hand and a machete in the other as they run for their lives while reviewing comics starring the biggest movie slasher stars of the 80s and 90s! Freddy, Jason, Michael Myers, Chucky, Leatherface…they're all here! As usual, we'll discuss and review these comics using our "Buy It," "Skim It," or "Leave It" rating system which is probably going to send a comic creator into a murderous rampage one day.
———-
This Week's Reviews: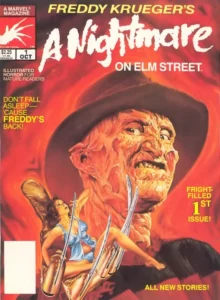 Joe: 
– Freddy Krueger's A Nightmare on Elm Street #1, Marvel 1989
– Texas Chainsaw Massacre #1, Wildstorm 2007
– Halloween: 30 Years of Terror, DDP 2008
– Friday the 13th: Abuser and the Abused, Wildstorm 2008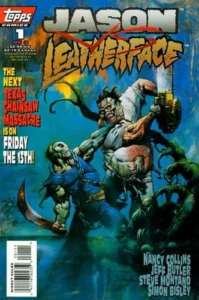 Matt:
– Pinhead #1, Marvel – Epic 1993
– Jason vs Leatherface #1, Topps
– Puppet Master #4, Action Lab, 2015
---
Then it's time to talk about our must-read picks for next week's new comics in the THN Sanctum Sanctorum:
Matt's Pick for Next Week: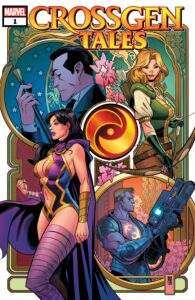 Crossgen Tales #1
Marvel, $3.99
Written by Mark Waid
Art by Butch Guice and Paco Medina
Solicit: Surprising tales from a universe of fantasy, folklore, and science fiction! The debut issues of four of the signature titles from the 21st century's most innovative imprint – and some of the biggest names in comics – offer a window into other worlds! In RUSE (2001) #1, Detective Simon Archer and his assistant Emma Bishop face magic and mystery on the Victorian-esque planet Arcadia! In MYSTIC (2000) #1, meet sisters Genevieve and Giselle – one is a sorceress, one is a socialite, but their destinies are about to be transformed! In SIGIL (2000) #1, a planetary union is locked in a centuries-long war with the starfaring Saurians! And in SOJOURN (2001) #1, the archer Arwyn and her allies fight for survival in the shadow of the undead dictator Mordath! But who are the Sigil-Bearers who unite these four stories?
Joe's Pick for Next Week: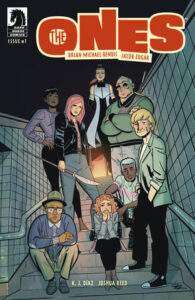 The Ones #1
Dark Horse, $4.99
Written by Brian Michael Bendis
Art by Jacob Edgar

Solict: From Award-winning writer Brian Michael Bendis, comes the next, best awesome super team to end all super teams . . . THE ONES!
Every single person in every mythology that was told they were THE ONE are brought together for the first time to defeat . . . THE ONE. The actual one. The real actual one. This amazing new vision is brought to life by wunderkind artist and cocreator Jacob Edgar (Batman, Army of Darkness). Watch as he brings explosive comics splendor to this big new world! Think Good Omens meets Ghostbusters meets The Adam Project meets The Goonies meets Everything Everywhere All at Once meets, um, anything else you've ever liked!
Trade/Graphic Novel of Next Week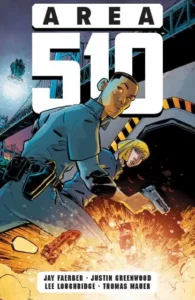 Area 510 HC
ONI, $19.99
Written by Jay Farber
Art by Justin Greenwood
Solicit:  Rookie officer Ward has his hands full with an overbearing partner and a scheming burglary suspect. But when Ward's partner is shockingly killed by aliens, Ward and his suspect, the wily Lucinda, make a run for it. Their destination: Oakland Police HQ, where they hope to find safe haven. But as Ward and Lucinda have numerous alien encounters along the way, they fear these attacks aren't random, and that the aliens are targeting them!
———-
This Episode's Soundtrack:
All music in this episode is 100% free-use, royalty-free, or used with the express permission of the artist and or label, and all of those other fun words that mean we didn't infringe on any copyrights!
———-
Don't forget about our companion show, THN COVER TO COVER! You can watch the broadcast live on our Facebook page Saturdays at 10:30 AM Central central time, but if you want to chat or talk to us live join our Discord for more info! If you can't be there live leave us a message at 402-819-4894, use our Contact THN link 0r shoot us an mp3 to [email protected].
If you like what you heard, please consider donating! THN is a listener-supported podcast that we aim to keep ad-free and without your support, we don't have a show. You can become a Patron where you'll hear all kinds of Patreon-exclusive content or just make a one-time donation via Paypal because you're a comic-nerd of the highest quality!
Need more THN? Head over to the THN Facebook Fan Page and check out our YouTube channel for extra content you can't find in the show!
Excelsior!