Podcast: Download
Subscribe: Apple Podcasts | Google Podcasts | Spotify | Amazon Music | Android | Stitcher | Blubrry | Podchaser | TuneIn | RSS | More
In this very special holiday episode, THN gets sad – REAL SAD – eight damn issues of ugly-crying sad, while they delve into second part of the Death of Superman story, Funeral for a Friend.  Joined by three loyal Listenerds, Hugo, Hugo's Dad Jon, and Joe AKA "Mr Mick," the Internet's Joe Patrick again forces Matt into reading and discussing (and sobbing about) the Superman: Funeral for a Friend crossover! It's the gift that keeps on giving!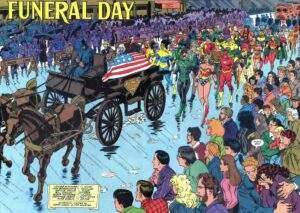 Don't forget about our companion show, THN COVER TO COVER! You can watch the broadcast live on our Facebook page Saturdays at 10:30 AM Central central time, but if you want to chat or talk to us live join our Discord for more info! If you can't be there live leave us a message at 402-819-4894, use our Contact THN link 0r shoot us an mp3 to [email protected].
If you like what you heard, please consider donating! THN is a listener-supported podcast that we aim to keep ad-free and without your support, we don't have a show. You can become a Patron where you'll hear all kinds of Patreon-exclusive content or just make a one-time donation via Paypal because you're a comic-nerd of the highest quality!
Need more THN? Head over to the THN Facebook Fan Page and check out our YouTube channel for extra content you can't find in the show!
Excelsior!