Welcome Back to another edition of I'd Buy That for a Dollar! Every week, we review at least one digital first, Comixology original, or indie comic you probably didn't pre-order from your local comic shop.  Our main review will be a book you can find on Comixology right now and purchase for $0.99.
——-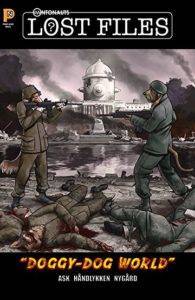 Ontonauts: Lost Files "Doggy-Dog World"
Written by: Lars Schwed Nygard
Art by: Mac Ask & Andreas Handlykken
Publisher: Prime Noise Media
Price: $0.99 on Comixology
Solicit: In the Wagginton DC reality, the truth is that it's a dog-eat-dog world out there.  But does it need to be?
The pickings were a bit slim this week. Before selecting a book, there are some things that will automatically disqualify a book from consideration. One is if the book is filled with text boxes or has horrendous lettering, and with 0.99 books, it's all too common. This book at least passed those qualifications.
You are thrust into a story of anthropomorphic dogs, standing in full military uniform, pointing guns at one another. They're standing in front of the US Capitol Building, with a fire hydrant dome in its place. With zero context, this appears to be an absurdist take on the current political divides in America, told through the perspectives of a bloodhound and a collie.
That's all you need to know about this comic. The art was pretty good. While I don't think it's fair to compare it to that of Stuart Immonen or Steve Epting, it is serviceable, especially for an indie book. The art is on par with what you might find in a typical Dynamite comic. It's not perfect, but well done and well colored.
I finished this book and really wondered what I'd just read, in a good way. And because it was competently done and only $0.99, I'd buy that for a dollar!
Rating: Buy It
——-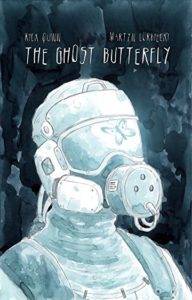 The Ghost Butterfly
Script & Letters By: Rick Quinn
Art By: Martyn Lorbiecki
Publisher: Aurora Comics
Price: $1.99 on Comixology
Solicit: Every day, David wakes up to a world left empty by a nuclear cataclysm and goes outside to search for his wife.
Love Jeff Lemire? Loved his work on The Underwriter Welder or Trillium? Then download this book now. It's a beautiful water colored tale of a post-apocalyptic nuclear world. The story is short, tragic, and beautiful. The homage to Lemire is very clear, and it's a damn fine one. Although this is a one shot, this could have been longer and still been just as enjoyable.
Rating: Buy It
——-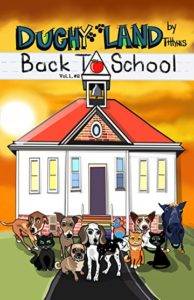 Duchy Land #2
By: Theresa Hynes
Publisher: There's a Place, LLC
Price: $1.99
Solicit: Back to School. Just when you thought it was safe to get into the water, watch T.V. late at night, go to a drive in movie in your pajamas, camp out in the back yard… IT IS BACK TO SCHOOL we go. Watch as the parents, teachers, and students go to back to school and make it through the "tears and fears" of the season.  Dutchy Land history is included in this edition.   
The art in this book is very cartoonish, reminding me of something you'd see scanning channels on a Saturday morning.  It's not standard comic art, and more resembles an episode Bojack Horseman with a bit more realism.  It definitely drew me to read the book and kids will be attracted to this style of art and the bright color palate.
The writing is a mixture of dad jokes and old comic strips, and hearkens back to early Internet comics. It's not thrilling and gets tiring very quickly. However, it's a book that could be enjoyed by several age groups in small doses.
Rating: Skim It
———————–
Ryan Mount writes all kinds of stuff for the Two-Headed Nerd and http://horror-writers.com. He also has one of the greatest Twitter handles of all time.