Podcast: Download
Subscribe: Apple Podcasts | Google Podcasts | Spotify | Amazon Music | Android | Stitcher | Blubrry | Podchaser | TuneIn | RSS | More
Welcome to Two-Headed Nerd Episode #676, where our sentient Cosmic Longbox has us reviewing comic back issues based on a theme! The '90s were a hell of a decade for comics with issues of X-Men and Spider-Man and Superman's Death selling well over a million issues. What could lesser famous comics do to stand out on the new shelves? We present to you a parade of comics with some of the most ridiculous gimmick covers of all time. Wooly Toots called for this one and the Cosmic Long Box is serving it up.  We'll discuss and review both the covers and the comics using our "Buy It," "Skim It," or "Leave It" rating system!
———-

This Week's Reviews: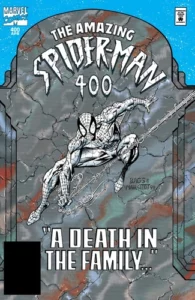 Joe: 
– Silver Surfer #50, Marvel 1991
– Superman: The Man of Steel #30, DC 1994
– Guy Gardner: Warrior #29, DC 1995
– Amazing Spider-Man #400, Marvel 1995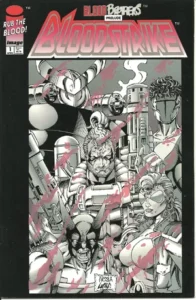 Matt:
– Ghost Rider #15, Marvel, 1991
———-
Then it's time to talk about our must-read picks for next week's new comics in the THN Sanctum Sanctorum:
Matt's Pick for Next Week: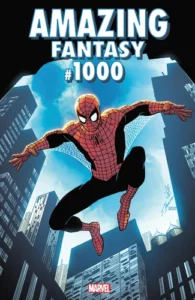 Amazing Fantasy #1000
Marvel Comics, $7.99
Writers: Terry Dodson, Giuseppe Camuncoli, Steve Mcniven, Michael Cho
Artists: Michael Cho, Jonathan Hickman, Kurt Busiek, Neil Gaiman
Cover by John Romita, Jr.
Solicit: The comic that brought you SPIDER-MAN hits issue #1000! We're going big to celebrate in this, our thousandth issue of AMAZING FANTASY! An ALL-STAR roster of creators are coming together to celebrate Peter Parker and Spider-Man's birthdays!

Joe's Pick for Next Week: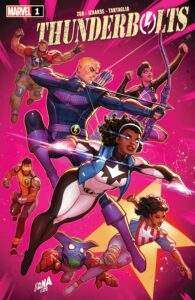 Thunderbolts (2022) #1
Marvel Comics, $3.99
Writer: Jim Zub
Artist: Sean Izaakse
Cover by David Nakayama
Solicit: …LIKE LIGHTNING! Super-powered crooks have taken hostages in Staten Island? A dimensional rift tears open in Chinatown? Monsters running amok at the Met? Call in the THUNDER! New York City's finest are here to save the day — Hawkeye, Spectrum, America Chavez, Power Man, Persuasion and Gutsen Glory! You know 'em, you love 'em…they're the Thunderbolts! In the aftermath of Devil's Reign, the Big Apple has big problems, and it's up to a new group of Thunderbolts to turn things around. But when Clint Barton gets tasked with heading up this team and proving they can go toe-to-toe with anything the Marvel Universe can throw at them, the first opponent he's going to have to face is himself.

Trade/Graphic Novel of Next Week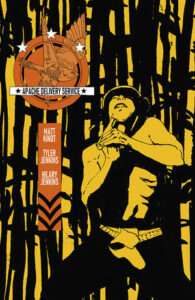 Apache Delivery Service
Dark Horse, $19.99
Writer: Matt Kindt
Artist: Tyler Jenkins
Solicit: Two haunted men are on a hunt in the jungles of Vietnam searching for clues to a missing treasure trove of gold that was stolen from all over Asia by a Japanese general during World War II. Eventually they find a series of hidden caves in the mountains near the coast. Bodies start showing up-murder victims and mutilated corpses. As our warriors travel deeper into the mystery they learn more disturbing facts about each other and become paranoid of one another as they get closer and closer to the gold, while, at the same time, a bizarre serial killer is hunting them down. Collects the four-issue miniseries.

———-
This Episode's Soundtrack:
All music in this episode is 100% free-use, royalty-free, or used with the express permission of the artist and or label, and all of those other fun words that mean we didn't infringe on any copyrights!
———-
Don't forget about our companion show, THN COVER TO COVER! You can watch the broadcast live on our Facebook page Saturdays at 10:30 AM Central central time, but if you want to chat or talk to us live join our Discord for more info! If you can't be there live leave us a message at 402-819-4894, use our Contact THN link 0r shoot us an mp3 to [email protected].
If you like what you heard, please consider donating! THN is a listener-supported podcast that we aim to keep ad-free and without your support, we don't have a show. You can become a Patron where you'll hear all kinds of Patreon-exclusive content or just make a one-time donation via Paypal because you're a comic-nerd of the highest quality!
Need more THN? Head over to the THN Facebook Fan Page and check out our YouTube channel for extra content you can't find in the show!
Excelsior!