Podcast: Download
Subscribe: Apple Podcasts | Google Podcasts | Spotify | Amazon Music | Android | Stitcher | Blubrry | Podchaser | TuneIn | RSS | More
Welcome to Two-Headed Nerd Episode #678, where our sentient Cosmic Longbox has us reviewing comic back issues based on a theme! This time the cosmic long box has been watching way too much House of the Dragon and Rings of Power so it's got Sword and Sorcery comics on the brain. But not just any fantasy will do. Our theme this week is Swords and Supes and we'll be talking about what happens when our favorite superheroes get pulled into ancient worlds to do battle with demons, dragons, and stygian magics. As usual we'll discuss and review these comics using our "Buy It," "Skim It," or "Leave It" rating system and if you're not careful, you just might learn something completely useless!
———-
This Week's Reviews: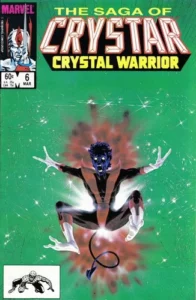 Joe: 
– Marvel Team-Up Vol. 1 #79, Marvel, 1978
– The Saga of Crystar: Crystal Warrior #6, Marvel, 1983
– Batman: Legends of the Dark Knight #35, DC Comics, 1992
– Superman: Blood of My Ancestors One-Shot, DC, 2003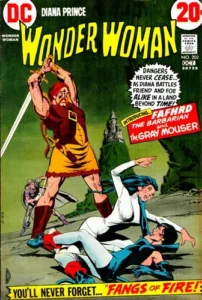 Matt:
– Avengers Vol. 1 #84, Marvel, 1971
– Wonder Woman Vol. 1 #202, DC, 1972
– What If ? Vol. 1 #39, Marvel, 1983
– Action Comics # 761, DC, 2001
———-
Then it's time to talk about our must-read picks for next week's new comics in the THN Sanctum Sanctorum:
Matt's Pick for Next Week: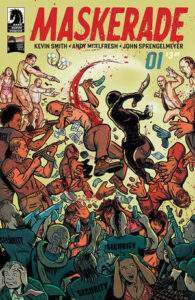 Maskerade #1
Dark Horse $3.99
Writer: Kevin Smith, Andy McElfresh
Artist: John Sprengelmeyer
Colorist: Giulia Brusco
Cover Artist: John Sprengelmeyer
Solicit: From Kevin Smith and Secret Stash Press! Felicia Dance is hiding in plain sight. The provocative social media star and shock TV sensation has one of the most recognizable faces in the world–so she cant capture and kill the butchers who murdered her little brother and experimented on Felicia like a lab rat when she was a child. Not unless she looks like someone else. The face of justice is reshaped forever in Maskerade–an exciting new vigilante comic series from writers Kevin Smith and Andy McElfresh and artist John Sprengelmeyer, marking the dynamic debut of Smith's Secret Stash Press imprint with his very own vigilante!
An all-new sci-fi crime drama from writer and filmmaker Kevin Smith and screenwriter Andy McElfresh!
Joe's Pick for Next Week: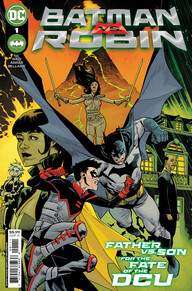 Batman vs Robin #1
DC, $3.99
Writer: Mark Waid
Artist: Mahmud Asrar
Cover by: Mahmud Asrar
Solicit: Spinning out of the events of both Batman/Superman: World's Finest and Shadow War, father and son will do battle in one of the single most earth-shattering tales ever told!
Deep in the heart of Lazarus Island, the demonic legacy of the al Ghul family line has at last been freed, and the Devil Nezha is out for blood. To reclaim his total domination over planet Earth, Nezha has supercharged magic—anyone who dares use it is overcome by a demonic evil that supercharges their abilities to dangerous, unpredictable, and in some cases, deadly levels! With Damian in Nezha's clutches and Bruce haunted by the return of an old friend, the Dark Knight and the Boy Wonder are pitted against one another in the battle of the century! Legendary writer Mark Waid helms the next epic saga in Batman history, while superstar artist Mahmud Asrar makes his triumphant return to DC!
Trade/Graphic Novel of Next Week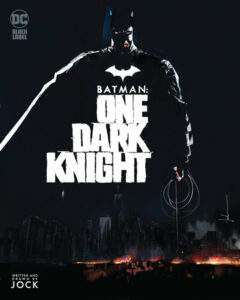 Batman: One Dark Knight HC, DC
DC, $29.99
Writer: Jock
Artist: Jock
Solicit: All they had to do was get him across town.
It was the sort of mission Batman had run a thousand times. From high above the sweltering summer streets of Gotham, Batman would escort the GCPD as the dangerous metahuman super-villain known as E.M.P. was transferred from a temporary holding cell to his permanent home at Blackgate Prison in Gotham Harbor. E.M.P.'s electrical powers posed a dangerous threat, but the situation was well in hand.
Until it wasn't.
Now every light in Gotham is out, the police have been knocked into disarray, and a broken, bleeding Batman must fight his way to Blackgate, block by block, dragging E.M.P. behind him. But it's not just the gangs who want to make life difficult for him. The dark corners of Gotham contain many surprises…and E.M.P. has many more shocks to deliver before the night is through!
One of the most iconic Batman artists of the 21st century, the incomparable Jock (THE BATMAN WHO LAUGHS, BATMAN: THE BLACK MIRROR), has focused all his storytelling powers on the tale of one very, very dark night in Gotham City. It's always darkest before the dawn—if it ever comes…
Collects Batman: One Dark Knight #1-3.
———-
This Episode's Soundtrack:
All music in this episode is 100% free-use, royalty-free, or used with the express permission of the artist and or label, and all of those other fun words that mean we didn't infringe on any copyrights!
———-
Don't forget about our companion show, THN COVER TO COVER! You can watch the broadcast live on our Facebook page Saturdays at 10:30 AM Central central time, but if you want to chat or talk to us live join our Discord for more info! If you can't be there live leave us a message at 402-819-4894, use our Contact THN link 0r shoot us an mp3 to [email protected].
If you like what you heard, please consider donating! THN is a listener-supported podcast that we aim to keep ad-free and without your support, we don't have a show. You can become a Patron where you'll hear all kinds of Patreon-exclusive content or just make a one-time donation via Paypal because you're a comic-nerd of the highest quality!
Need more THN? Head over to the THN Facebook Fan Page and check out our YouTube channel for extra content you can't find in the show!
Excelsior!