Podcast: Download
Subscribe: Apple Podcasts | Google Podcasts | Spotify | Amazon Music | Android | Blubrry | Podchaser | TuneIn | RSS | More
Welcome to Two-Headed Nerd Episode #679: New Comic Reviews 9/7 and 9/14 ! In this episode, the nerds find themselves confronting a pile full of…
Dog-shaped bipedal aliens
All the Avengers getting outed (EDITOR'S NOTE: That's NOT what that title means…)
The return of the kinda sorta Midnight Suns but with a 'U' this time
Kevin Smith's dick and fart humor
And even a Little Monsters reference from Joe who did NOT watch real horror films as a kid
As always we'll be using our rating system of "Buy It," "Skim It," or "Leave It," which is obviously subjective as hell but feel free to start your podcast and come up with something better.
Plus, a new Uncle Joe's Story Time!
———-
This Week's Reviews: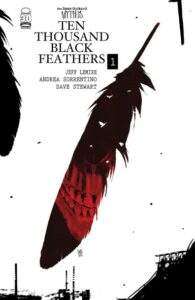 Joe:
9/7
Last Line #1, Aftershock
All-Out Avengers #1, Marvel
9/14
Star Trek: Lower Decks #1, IDW
Bone Orchard: Ten Thousand Black Feathers #1, Image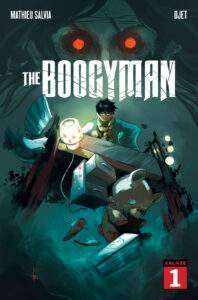 Matt: 
9/7
Alien #1 Marvel
Boogeyman #1, Ablaze
9/14
Maskerade #1, Dark Horse
Midnight Suns #1, Marvel
———-
Then it's time to talk about our must-read picks for next week's new comics in the THN Sanctum Sanctorum: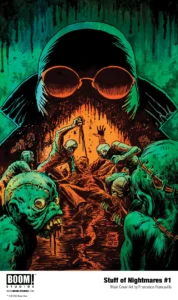 Matt's Pick for Next Week:
Stuff of Nightmares #1
BOOM, $3.99
Writer: R.L Stein
Artist: A. L. Caplan
Solicit:  The premiere issue of a brand new four-issue limited comic book series from R.L Stine, the legendary author of Fear Street and Goosebumps, who's back with a chilling new take on iconic creatures from horror legend in his first creator-owned comic book series, with chilling art by A.L. Kaplan (Maw, Jim Henson's The Storyteller), colors by Roman Titov (Eat the Rich), and letters by Jim Campbell (Black Badge). 
Joe's Pick for Next Week: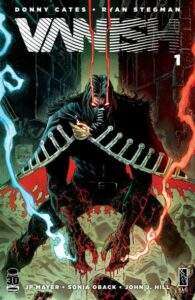 Vanish #1
Image Comics, $3.99
Written by Donnie Cates
Art by Ryan Stegman
Solict:
From DONNY CATES (GOD COUNTRY, Hulk, Thor), RYAN STEGMAN (VENOM, King in Black), JP MAYER (Absolute Carnage, Fantastic Four), SONIA OBACK (Amazing Spider-Man: Renew Your Vows, Han Solo), and JOHN J. HILL (CROSSOVER, Harley Quinn), the all-star creative team that brought you VENOM, comes an all-new take on the classic hero's quest!
Oliver Harrison was a mythical hero who slayed the greatest threat to his realm before even hitting puberty. But that was then.
As an adult, Oliver leads an average cookie-cutter suburban life—aside from the fact that he's mentally unstable, massively paranoid, smokes like a chimney, and gets blackout drunk every night to hide from his horrific nightmares. Will the arrival of a superhero team called the Prestige prove the madness isn't all in Oliver's head? And what about all the epic fantasy crap from his childhood?
Join us for a brutal as hell tale of magical worlds, gifted youth, evil sorcerers, superheroes, war, blood, guts, and death that punches you right in the face!
Trade/Graphic Novel of Next Week: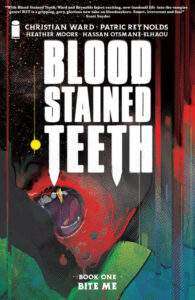 Blood Stained Teeth Vol 1: Bite Me
Image Comics, $16.99
Written by Christian Ward
Art by Patric Reynolds
Solicit: Meet Atticus Sloane: misanthropic criminal, avid vinyl collector, and member of the aristocratic Vampire cabal the First Borns. For the right price, he'll turn you into a Vampire, too. After all-immortality isn't cheap. CHRISTIAN WARD, the Eisner Award-winning co-creator of ODY-C, Invisible Kingdom, and Machine Gun Wizards, and red-hot artist PATRIC REYNOLDS (NITA HAWES' NIGHTMARE BLOG, The Mask) bring you a fast-paced 100 Bullets-style crime saga with fangs! Collects BLOOD STAINED TEETH #1-5
———-
This Episode's Soundtrack:
All music in this episode is 100% free-use, royalty-free, or used with the express permission of the artist and or label, and all of those other fun words that mean we didn't infringe on any copyrights!
———-
Don't forget about our companion show, THN COVER TO COVER! You can watch the broadcast live on our Facebook page Saturdays at 10:30 AM Central central time, but if you want to chat or talk to us live join our Discord for more info! If you can't be there live leave us a message at 402-819-4894, use our Contact THN link 0r shoot us an mp3 to [email protected].
If you like what you heard, please consider donating! THN is a listener-supported podcast that we aim to keep ad-free and without your support, we don't have a show. You can become a Patron where you'll hear all kinds of Patreon-exclusive content or just make a one-time donation via Paypal because you're a comic-nerd of the highest quality!
Need more THN? Head over to the THN Facebook Fan Page and check out our YouTube channel for extra content you can't find in the show!
Excelsior!