Podcast: Download
Subscribe: Apple Podcasts | Google Podcasts | Spotify | Amazon Music | Android | Blubrry | Podchaser | TuneIn | RSS | More
Welcome to Two-Headed Nerd Episode #680: New Comic Reviews September 21-28 Briar, Old Dog, Creepshow & MORE! In this episode, them two-headed boys get more than they bargained for when they tackle a pile of comics full of…
Substack heroes bringing their chains to Image!
An X-Ladies-night-out!
Tim Drake's new weird-shaped head
2 different Crypt Keeper homages in 2 different horror comics!
Further evidence we're living through the Declan Shalvey Renaissance.
Killer therapists!
Sleeping Beauty taking matters into her own hands!
As always, we'll be using our rating system of "Buy It," "Skim It," or "Leave It." And yes, we get it…It's an extremely loose and subjective rating system but we don't know no better…
---
This Week's Reviews: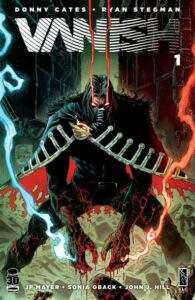 Joe:
9/21
Vanish #1, Image
X-Terminators #1 (2022), Marvel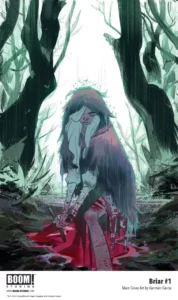 Matt: 
9/21
Stuff of Nightmares #1, Boom Studios
Creepshow #1, Image
9/28
Flawed #1, Image
Briar #1 of 4, Boom Studios
---
Then it's time to talk about our must-read picks for next week's new comics for new comic book day 10/5:
Matt's Pick for Next Week: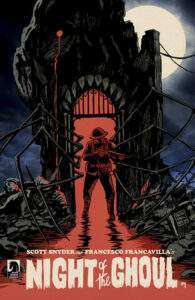 Night of the Ghoul #1
Dark Horse, $3.99
Writer: Scott Snyder
Artist: Francesco Francavilla
Solicit: Shot in 1936, Night of the Ghoul by writer/director T.F. Merritt was meant to sit beside Frankenstein and Dracula as an instant classic . . . But the legendary film never made it to the silver screen. Just before editing was finished, a mysterious studio fire destroyed the footage and killed the cast and crew celebrating at the wrap party. Forest Inman is a horror film obsessive who digitizes old films for the famed Aurora movie studio. When Forest stumbles across a seemingly forgotten canister of footage, he just might have discovered the remnants of the lost classic Night of the Ghoul. This discovery sends Forest on a dark odyssey, where he is warned by a mysterious old man that the film's ghoul is far more than a work of fiction: it's a very real monster who plans to kill him.
Joe's Pick for Next Week: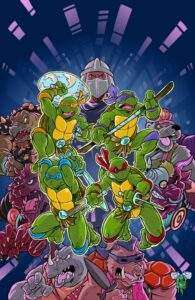 Teenage Mutant Ninja Turtles: Saturday Morning Adventures #1
IDW, $3.99
Written by Erik Burnham
Art by Tim Lattie
Solict: In 1987, the world at large was introduced to the TMNT by way of a catchy theme song and an action-packed cartoon. The cartoon's aesthetic returns in Teenage Mutant Ninja Turtles: Saturday Morning Adventures, featuring an all-new set of standalone stories! In this issue, after an unexpected power surge, the Heroes in a Half Shell find themselves trapped in a training simulator, fighting to free themselves from the digital clutches of some of their most fearsome foes! Get ready for 'VR in Deep Trouble!' (And try not to worry if that theme song is already stuck in your head!)
Trade/Graphic Novel of Next Week: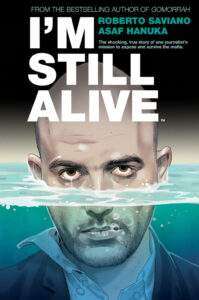 I'm Still Alive HC
BOOM Studios, $24.99
Written by Roberto Saviano
Art by Asaf Hanuka
Solicit: When world-renowned Italian journalist Roberto Saviano put pen to paper at age 26, he'd change laws, expose widespread corruption, put his own life at risk, and save countless others. Gomorrah, his groundbreaking international bestseller and NYT Notable Book of the Year, exposed the inner workings of the Italian mafia and placed Saviano under direct threat which has necessitated 24-hour police protection to this day. Joined by award-winning cartoonist Asaf Hanuka (The Realist, The Divine), Saviano shares his deepest thoughts and
---
This Episode's Soundtrack:
All music in this episode is 100% free-use, royalty-free, or used with the express permission of the artist and or label, and all of those other fun words that mean we didn't infringe on any copyrights!
---
Don't forget about our companion show, THN COVER TO COVER! You can watch the broadcast live on our Facebook page Saturdays at 10:30 AM Central central time, but if you want to chat or talk to us live join our Discord for more info! If you can't be there live leave us a message at 402-819-4894, use our Contact THN link 0r shoot us an mp3 to [email protected].
If you like what you heard, please consider donating! THN is a listener-supported podcast that we aim to keep ad-free and without your support, we don't have a show. You can become a Patron where you'll hear all kinds of Patreon-exclusive content or just make a one-time donation via Paypal because you're a comic-nerd of the highest quality!
Need more THN? Head over to the THN Facebook Fan Page and check out our YouTube channel for extra content you can't find in the show!
Excelsior!