Podcast: Download
Subscribe: Apple Podcasts | Google Podcasts | Spotify | Amazon Music | Android | Stitcher | Blubrry | Podchaser | TuneIn | RSS | More
New comic book reviews return to the show with a vengeance and EVEN MORE COMICS! We'd ask if you're ready but YOU ARE NOT READY for our new format featuring 12 NEW COMIC BOOK REVIEWS!  This episode's stack comes from new comic Wednesdays 11/23 and 11/30! Get ready for the JSA's (second, maybe third?) return, G.I. Joe saying farewell to IDW, that time Yoda saved the Murlocks, Doctor Strange getting even trippier, and Kal-El's return (FINALLY)! As always, THN will be using their rating system of "Buy It," "Skim It," or "Leave It," which of course doesn't mean much. It's like giving THREE stars when everyone knows FOUR is the Magic Number. COME ON GUYS!!!
---
New Comic Book Reviews: 
Matt:
11/23
Doctor Strange: Fall Sunrise #1 (of 4), Marvel Comics
Fear of a Red Planet #1, Aftershock
Star Wars: Yoda #1, Marvel Comics
11/30
Koshchei in Hell #1, Dark Horse
Plush #1, Image
Planet Hulk Worldbreaker #1 of 5, Marvel Comics
---
Then it's time to talk about our must-read picks for next week's new comics:
Matt's Pick for Next Week: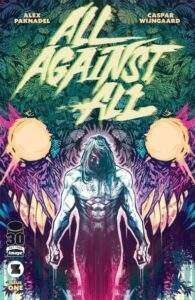 All Against All #1
Image Comics, $3.99
Written by Alex Paknadel
Art by Caspar Wijngaard
Solict: Writer ALEX PAKNADEL (DC vs. Vampires: All Out War, Giga), artist CASPAR WIJNGAARD (HOME SICK PILOTS), and letterer HASSAN OTSMANE-ELHAOU present a primal vision of humanity gone terribly wrong. In All Against All, it is the distant future. Earth is long gone, but a race of alien conquerors knows as 'the Operators' have preserved its most savage animals in an artificial jungle environment they barely understand. With no bodies of their own, the Operators move from world to world, harvesting bodies for the organic exosuits they use to wage their endless wars. Ignored and underestimated by his captors is the habitat's sole human specimen, Helpless. However, when their efforts to find and harvest an apex predator intensify, he gives them far more than they bargained for. Featuring variant covers by artistic powerhouses as SEAN PHILLIPS (RECKLESS), MARTIN SIMMONDS (THE DEPARTMENT OF TRUTH), and CHRISTIAN WARD (BLOOD STAINED TEETH)!
Joe's Pick for Next Week: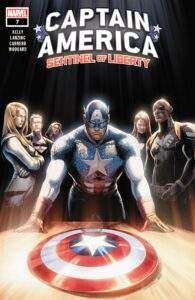 Captain America: Sentinel of Liberty #7
Marvel Comics, $3.99
Written by Collin Kelly, Jackson Lanzing
Art by Carmen Carnero
Solict: "THE INVADER" starts here! Just when Captain America is ready to quit his pursuit of the Outer Circle, he receives intel on their next move – and a reminder that Steve Rogers is never without friends. Sharon Carter returns to help Steve assemble his allies for a new mission – but some shadows reach farther than even the world's best spies can predict.

Trade/Graphic Novel of Next Week: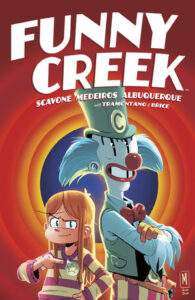 Funny Creek TP
Dark Horse, $22.99
Written by Rafael Albuquerque, Rafael Scavone
Art by Eduardo Medeiros
Solict/Setup: Running from a terrible trauma at home, Lilly magically falls inside her favorite cartoon show. But the bright world of Funny Creek isn't as far from the pains of the real world as she had hoped. A thrilling adventure ensues where Lilly must overcome her troubles and make her way home.
· New OGN by Rafael Albuerqueque.
· Collects the Comixology Originals series in print for the first time!
---
This Episode's Soundtrack:
All music in this episode is 100% free-use, royalty-free, or used with the express permission of the artist and or label, and all of those other fun words that mean we didn't infringe on any copyrights!
---
Don't forget about our companion show, THN COVER TO COVER! You can watch the broadcast live on our Facebook page Saturdays at 10:30 AM Central central time, but if you want to chat or talk to us live join our Discord for more info! If you can't be there live leave us a message at 402-819-4894, use our Contact THN link 0r shoot us an mp3 to [email protected].
If you like what you heard, please consider donating! THN is a listener-supported podcast that we aim to keep ad-free and without your support, we don't have a show. You can become a Patron where you'll hear all kinds of Patreon-exclusive content or just make a one-time donation via Paypal because you're a comic-nerd of the highest quality!
Need more THN? Head over to the THN Facebook Fan Page and check out our YouTube channel for extra content you can't find in the show!
Excelsior!