Podcast: Download
Subscribe: Apple Podcasts | Google Podcasts | Spotify | Amazon Music | Android | Stitcher | Blubrry | Podchaser | TuneIn | RSS | More
New comic book reviews return to the show for a GIANT-SIZED REVIEW SESSION featuring 12 New Comics!  This episode's stack comes from new comic Wednesdays 12/7 and 12/14! Prepare yourself for Spidey's latest event Dark Web, Tom King uniting Warlord, Blue Starman, Metamorpho, Lady Cop, and the Green Team in Danger Street, Spawn's latest rendezvous with Batman, and more!  As always, Joe and Matt will be using their rating system of "Buy It," "Skim It," or "Leave It,"  but they're hoping to get a better rating system for Christmas. They haven't been very good this year though…
---
New Comic Book Reviews: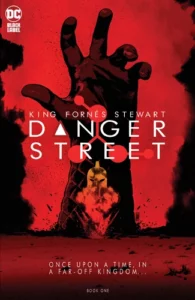 Joe:
12/07
Know Your Station #1, BOOM Studios
It's Only a Teenage Wasteland #1, Dark Horse
Dark Web #1, Marvel
12/14
Dark Crisis: Big Bang One-Shot, DC
Danger Street #1, DC Black Label
Invincible Iron Man #1, Marvel Comics
Matt:
12/07
Thanos: Death Notes #1, Marvel
All Against All #1, Image
Miles Morales: Spider-Man #1, Marvel Comics
11/30
A Vicious Circle #1, Boom
Night Club #1, Image Comics
Batman/Spawn 2022 #1, DC/Image Comics
---
Then it's time to talk about our must-read picks for next week's new comics:
Matt's Pick for Next Week: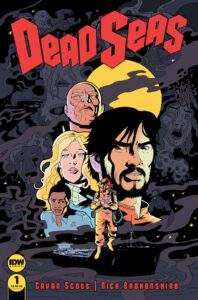 Dead Seas #1
IDW, $3.99
Written by Cavan Scott
Art by Nick Brokenshire
Solict:  Ghosts are real and dangerous. But they're also valuable, their ectoplasm capable of curing countless diseases. There's only one problem: harvesting the wonder drug can be just as deadly. Prisoner Gus Ortiz is willing to take the risk in return for a reduced sentence-anything to see his daughter again. All it will take is a few months at sea scraping ectoplasm off the walls of the Perdition, a floating prison containing the most vicious ghosts on Earth. Surrounded by dark waters, Gus soon realizes that angry spirits are the least of his worries. The Poseidon Adventure meets The Haunting of Hill House in this supernatural thriller.
Joe's Pick for Next Week: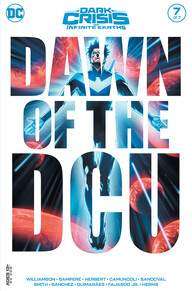 Dark Crisis on Infinite Earths #7
DC Comics, $5.99
Written by Joshua Williamson
Art by Daniel Sampere
Solict: The Great Darkness is defeated, but the final war has only just begun between the remaining heroes and Deathstroke's Dark Army! Who will be left standing? The Justice League and the infinite Earths have returned, but at what cost? Do not miss the shocking conclusion that launches the DCU into 2023!
Trade/Graphic Novel of Next Week: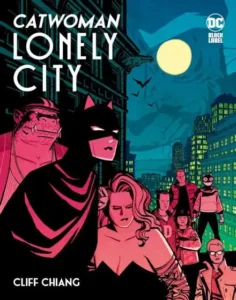 Catwoman: Lonely City HC
DC Comics, $29.99
Written and drawn by Cliff Chiang
Solicit: Ten years ago, the massacre known as Fool's Night claimed the lives of Batman, The Joker, Nightwing, and Commissioner Gordon…and sent Selina Kyle, the Catwoman, to prison. A decade later, Gotham has grown up."it's put away costumed heroism and villainy as childish things. The new Gotham is cleaner, safer…and a lot less free under the watchful eye of Mayor Harvey Dent and his Batcops. It's to this new city that Selina Kyle returns, a changed woman…with her mind on one last big score: the secrets hidden inside the Batcave! She doesn't need the money—she just needs to know…who is Orpheus? Visionary creator Cliff Chiang (Wonder Woman, Paper Girls) writes, draws, colors, and letters the story of a world without Batman, where one woman's wounds threaten to tear apart an entire city! It's an unmissable artistic statement that will change the way you see Gotham's heroes and villains forever! Collects CATWOMAN: LONELY CITY #1-4.
---
This Episode's Soundtrack:
All music in this episode is 100% free-use, royalty-free, or used with the express permission of the artist and or label, and all of those other fun words that mean we didn't infringe on any copyrights!
---
Don't forget about our companion show, THN COVER TO COVER! You can watch the broadcast live on our Facebook page Saturdays at 10:30 AM Central central time, but if you want to chat or talk to us live join our Discord for more info! If you can't be there live leave us a message at 402-819-4894, use our Contact THN link 0r shoot us an mp3 to [email protected].
If you like what you heard, please consider donating! THN is a listener-supported podcast that we aim to keep ad-free and without your support, we don't have a show. You can become a Patron where you'll hear all kinds of Patreon-exclusive content or just make a one-time donation via Paypal because you're a comic-nerd of the highest quality!
Need more THN? Head over to the THN Facebook Fan Page and check out our YouTube channel for extra content you can't find in the show!
Excelsior!