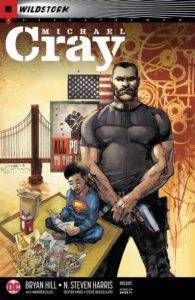 The Wild Storm: Michael Cray #1 Review
DC Comics
Written by Bryan Hill
Art by Steven Harris
32 pages, $3.99

Solicit: Warren Ellis' critically acclaimed relaunch of THE WILD STORM gets its first solo spinoff series! Michael Cray, professional assassin, has been betrayed by International Operations and has an alien life-form in his head that's either killing him, transforming him, or both. The only thing that can bring sense to his life is for him to do what he does best: kill the wrong people for the right reasons. But Michael needs support and resources to hit back against I.O., and he gets them in exchange for working with Trelane, taking out her targets, his way. First up? A sociopathic Silicon Valley billionaire by the name of Oliver Queen! 
Warren Ellis relaunch of The Wild Storm has been wonderful. Not just in the sense that Ellis, a veteran of Wildstorm's heyday, realized that these characters need their own universe, but mainly because each is an homage to well known characters with a real-world slant. But for some reason, this Michael Cray book decides to fold DC continuity back into the Wildstorm U but with a twist. Which leaves me asking, why?
Smashing Wildstorm into the DCU was a complete and utter failure across the board. It not only marginalized some of Wildstorm's strongest characters, Apollo and the Midnighter, but it also completely neutered the Martian Manhunter. So why? Why in the name of J'onn J'onnz are we doing this again?
Hill does a good enough job of introducing us to the new Cray but also left me plenty of questions. Mike is black now, but whatever. I'll be honest: I have no other connection to the character other than memories of Jim Lee drawing him like a complete badass mountain of a man. He's also just recently joined International Operations, or IO, and doesn't seem to understand how shady government murder squads work. He also seems to have some kind of rodent exploding powers?
This isn't a spoiler because it's in the solicit, but Cray is sent to murder Oliver Queen. Yes, THAT Oliver Queen. But, and I'm not certain here, it's not the latest Green Arrow I've learned to tolerate in DC Rebirth. This seems to be a new Wildstorm version of Green Arrow.
Which brings this review full circle. WHY IN THE BLUE FUCK DO WE NEED TO INTRODUCE WILDSTORM VERSIONS OF ESTABLISHED DCU CHARACTERS OTHER THAN TO CONFUSE OLD TIMERS LIKE MYSELF?! AND HOW MANY OLLIE QUEENS THAT HAVE NOTHING TO DO WITH THE ONE I LOVE FROM THE PRE-NEW 52 DCU DO WE NEED? I HATE IT!
Harris' art is…and I'm going to try to be respectful to a working artist with more talent than I will ever have here…but it's weird. And not in a good way. Characters stand in strange poses in some panels and their eyes and noses are just…odd in others. 
I just don't know what the creators are going for here and it feels like a huge departure from the story Ellis is telling in his Wild Storm book. The Cray I remember was a killing machine, Wildstorm's Punisher if you will. Here it feels like the creators are trying to play that aspect down while not giving us much more character development and confusing readers with alternate versions of DC characters.  This comic didn't work for me and seems to be a step back for the future of the Wildstorm U.
Rating: Leave it
————
Matt Baum is the producer, co-founder, and co-host of the Two-Headed Nerd Comic Book Podcast. He is short and loves to talk.