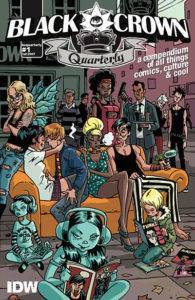 Black Crown Quarterly #1 Review
IDW
Written by Peter Milligan and Various
Art by Tess Fowler and Various
48 pages for $6.99
Solicit: Everything you always wanted once a season is packed within these 48 pages including a two-sided pullout poster and a wraparound cover! Delight in regular continuing features like legit publications with literary pedigrees! It all begins with the 10-page regular lead feature, Tales From the Black Crown Pub starring Stacey the barmaid by Award-winner Rob Davis (The Motherless Oven). Recurring short features include Canonball Comics: an exquisite corpse that will not stay dead kicked off by Jamie Coe (Artschooled) and Swell Maps by respectably divine music journalist/novelist Cathi Unsworth. Plus: Space CUDets rejoice: Live from a posh retirement village for wannabee 4-hit wonders we have co-writers/bandmates Will Potter and Carl Puttnam and occasional artist Philip Bond. Plus Plus: Special previews, creator interviews and behind the panel border secrets from Kid Lobotomy, Assassinistas, Punks Not Dead and much, much more!
Black Crown Quarterly is essentially the Marvel Age-style promotional series for Shelly Bond's Black Crown imprint. As the solicit states, this seasonal magazine features a smattering of ongoing, original comic features and previews of upcoming projects. Plus interviews, essays, pin-ups, etc. It really is the closest I've come to reading a classic Vertigo comic in years, and that's including Vertigo's current output. It especially embraces the tone and aesthetic of the comic industry's British Invasion of the late 80s/early 90s, when writers like Alan Moore, Neil Gaiman, Grant Morrison, and Peter Milligan – who is featured here as well – dominated the comic stands.
The lead feature, Tales from the Black Crown is a fun, House of Mystery-esque tale about the seemingly mystical pub where Black Crown's citizens congregate. There's Canonball Comics, which seemed to be a feature where imaginary comic characters spring to life from their pages inside a bizarre comic book store(?). And then there's the saga of Cud and the heartwarming tale of its elderly members trying to get the band back together. I enjoyed the previews of the upcoming Punks Not Dead and Assassinistas. Kid Lobotomy just looks too freaking weird for my tastes though.
There's a lot of content packed in here for the money, and you can tell it's a real labor of love from Shelly Bond. But I think Black Crown Quarterly will have a difficult time rising above a SKIM IT for me, just because of its very nature. There's a lot to like within these pages, but there was also a fair bit of it that just wasn't my cup of tea. Not to be dismissive, but I'm not an aging punk or a diehard Britpop fan, so many of the themes embraced in this issue are lost on me. And I suspect that, at least for this reader, it's going to be a similarly mixed bag every time.
Rating: SKIM IT
——————
Joe Patrick is the Co-Founder and Co-Host of the Two-Headed Nerd Comic Book Podcast, and the Editor-In-Chief of twoheadednerd.com. If he could have built a career out of correcting Matt Baum's mistakes, he would have left you all behind years ago.