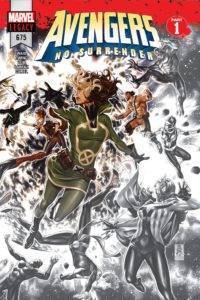 Avengers: No Surrender Review
Marvel Comics
Written by Mark Waid, Jim Zub, and Al Ewing
Art by Pepe Larraz
40 pages for $4.99 (#675), 32 Pages for $3.99 (#676-#677)
Solicit: NO SURRENDER Parts 1-3
AVENGERS goes WEEKLY for the stunning sixteen-part saga that will write the end of an era!
The Earth has been STOLEN! The sky burns while mysterious cosmic objects crash down from above, wreaking havoc across the world! The Avengers are the last line of defense between Earth and the mysterious forces threatening to tear it apart. It's time to ASSEMBLE! The teams you know and love from AVENGERS, UNCANNY AVENGERS, U.S.AVENGERS and OCCUPY AVENGERS come together to face a threat beyond any they've faced before in a weekly epic adventure that will define the future of Earth's Mightiest Heroes!
It's been a long time since the Avengers books felt like the Avengers, so I've been looking forward to this mini-event since it was announced a few months ago. No Surrender brings together the writers and casts of all the extant Avengers titles for a slam-bang cosmic crossover in the classic style.
My fear with this storyline was that the weekly chapters would feel slight on their own, but I was happy to find that that wasn't the case. Each installment was packed with classic superhero action. Part one set up the premise and introduced the mystery of Voyager. Part two gave us the mysterious character's backstory. Part three started to uncover the villains behind the plot and offered some great character moments for members of the cast. Which brings me to my next point: it would be easy for characterization to get lost with a cast this large, but Waid, Zub, and Ewing are doing a great job juggling the diverse personalities so far.
I'm especially interested in the mystery of Voyager, and I love the nods the they're making to Waid's 90s DC creation Triumph, another time-lost hero with a secret impact on classic continuity.
Pepe Larraz is the artist for month one of No Surrender and he's doing an amazing job. His style is full of energy and fits perfectly with the high stakes action. My one complaint is that some of his characters don't have a ton of variety. Lightning and Sunspot look basically the same, save for a slight difference in hairstyle.
I'm really enjoying Avengers No Surrender so far. I hope this team can keep up this momentum and that we're left with one great Avengers title when all is said and done.
Rating: BUY IT.
——————
Joe Patrick is the Co-Founder and Co-Host of the Two-Headed Nerd Comic Book Podcast, and the Editor-In-Chief of twoheadednerd.com. If he could have built a career out of correcting Matt Baum's mistakes, he would have left you all behind years ago.