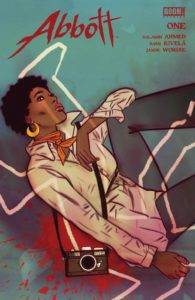 Abbott #1 Review
BOOM! Studios
Written by Saladin Ahmed
Art by Sami Kivela
32 pages, $3.99
Solicit: Hugo Award-nominated novelist Saladin Ahmed (Black Bolt) and artist Sami Kivelä (Beautiful Canvas) present one woman's search for the truth that destroyed her family. Hard-nosed, chain-smoking tabloid reporter Elena Abbott investigates a series of grisly crimes that the police have ignored. Crimes she knows to be the work of dark occult forces. Forces that took her husband from her. Forces she has sworn to destroy.
I walked into Abbott without even reading the solicit so I found myself pleasantly surprised to be reading a historical fiction story set in Detroit in the early 1970's. At the time the predominantly white police had been dealing with the civil rights riots and Vietnam protests which they largely saw as the work of black militants.
Abbott is a crime reporter working for the Detroit Daily and has recently published a story exposing a police brutality case wherein a young black man was beaten to death by the cops.
When she shows up to investigate the death and dismemberment of a police horse she finds the crime scene all to familiar and quickly realizes there may be a connection to her own past.
Ahmed captures the blaxsplotation feel of movies like Superfly and Shaft but gives us a hard nosed female reporter that uses her journalistic and detective skills rather than her fists.
Sami Kivela is amazing on art here giving the book a very classic 70's pulp feel that slips seamlessly into the supernatural.
Stories like this can easily get caught up in the real world or supernatural but Abbott walks the line very well and sets up a convincing mystery set in the background of Detroit's violent 70s.
Rating: BUY IT
————
Matt Baum is the producer, co-founder, and co-host of the Two-Headed Nerd Comic Book Podcast. He is short and loves to talk.