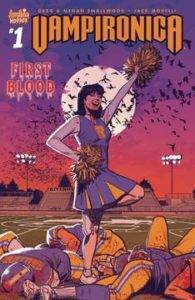 Vampironica #1 Review
Archie Comics
Written by Greg and Megan Smallwood
Art by Greg Smallwood
32 pages, $3.99
Solicit:  When Veronica is bitten by a centuries-old vampire, her thirst for blood threatens to turn Riverdale into a haven for the undead. Will she put an end to the vampire threat or give in to her blood lust?
If you haven't been paying attention you might be shocked to hear that the Archie-verse has carved out a corner for the darker side of Riverdale featuring your favorite plucky teens as characters in what is essentially 1980's B horror films.  The result has been a ton of fun and Vampironica is the latest entry into the Archie Horror imprint.
Here Gregg is joined by his wife Megan for their initial foray into writing a monthly book and the husband and wife team do a wonderful job on both the dialogue and story, as ridiculous as the premise may seem.
I first encountered Greg's work as the artist on the 2015 Dark Horse mini-series Dream Thief where his work blew me away.  Greg's work on both Dream Thief and more recently Moon Knight featured insane almost labyrinthian layouts and hard edged realistic art that was wonderful on every page.
Here he's softened his style a bit to fit with the Archie house style and wow does it work.  Smallwood is almost aping Darwyn Cooke in some of these panels while maintaining the iconic cartoonish look of Archie and the gang.  I'm making it sound like Greg Smallwood drew your average issue of Archie but this story featured the violent death of Veronica Lodge's parents and her transformation into a vampire.
The Smallwood's write a wonderful story in the spirit of the original Fright Night featuring your favorite Riverdale teens both dying and murdering each other.
This was another excellent addition into the Archie horror imprint and I can't wait for more.
Rating: BUY IT
————
Matt Baum is the producer, co-founder, and co-host of the Two-Headed Nerd Comic Book Podcast. He likes to brag that he ate a dead frog once and he didn't throw up.