Podcast: Download
Subscribe: Apple Podcasts | Google Podcasts | Spotify | Amazon Music | Android | Stitcher | Blubrry | Podchaser | TuneIn | RSS | More
The Nerds are back with more new comic book reviews and there's nothing like the first New Comic Book Day of the month! But don't worry – they'll be covering new comics from last week too. This episode's stack comes from new comic Wednesdays 10/26 and 11/2 and we've got quite a haul here! Prepare your bodies for the return of Benjamin Sisko, another Marvel Secret Invasion, foul-mouthed occultists with hammers, evil mall monsters, and more, but it all starts with the Riddler's first day on the job…
As always, THN will be using their rating system of "Buy It," "Skim It," or "Leave It," which desperately needs to be overhauled but the R&D budget for the Ziggurat dried up 10 years ago.
---
New Comic Reviews: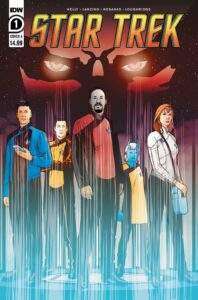 Joe:
10/26
Riddler Year One #1, DC
Star Trek #1, IDW
11/2
Matt: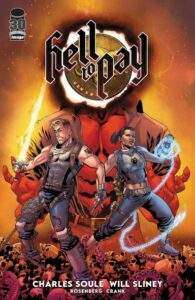 10/26
Damn Them All #1, Boom
Dead Mall #1, Dark Horse
11/02
Behold Behemoth #1, Boom
Hell to Pay #1, Image
---
Then it's time to talk about our must-read picks for next week's new comics:
Matt's Pick for Next Week: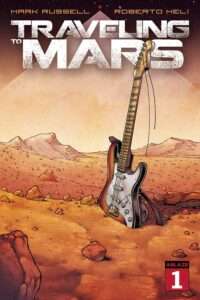 Traveling to Mars #1
Ablaze, $3.99
Written by Mark Russell
Art by Roberto Meli
Solict/Setup: From two-time Eisner and Harvey Award nominee Mark Russell and hot new talent Roberto Meli comes a compelling new sci-fi series… Traveling to Mars tells the story of former pet store manager Roy Livingston, the first human to ever set foot on Mars. Roy was chosen for this unlikely mission for one simple reason: he is terminally ill and therefore has no expectation of returning. Roy is joined on his mission to Mars by Leopold and Albert, two Mars rovers equipped with artificial intelligence, who look upon the dying pet store manager as a sort of god. Against the backdrop of not only his waning days but those of human civilization as well, Roy has ample time to think about where things went wrong for both of them and what it means to be a dying god. A riveting story of planetary exploration and of finding meaning in your final days.
Joe's Pick for Next Week: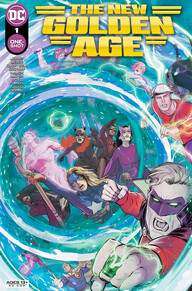 The New Golden Age One-Shot
DC Comics, $4.99
Written by Geoff Johns
Art by Jerry Ordway, Steve Lieber, Diego Olortegui, and Mikel Janin
Solict: From the Justice Society of America to the Legion of Super-Heroes, The New Golden Age will unlock DC's epic and secret-ridden history of heroism, launching a new group of titles set firmly in the DC Universe. From the 1940s to the 3040s, heroes take on the great evils of their time. But in the aftermath of Flashpoint Beyond, those heroes and villains will have their lives turned upside down. DC's future…and its past…will never be the same again. But how are Mime and Marionette connected to this? Why are Rip Hunter and the Time Masters the most unlikable heroes in the DC Universe? And who or what is…Nostalgia? Don't miss the start of the strangest mystery to have ever plagued the DC Universe.
Trade/Graphic Novel of Next Week: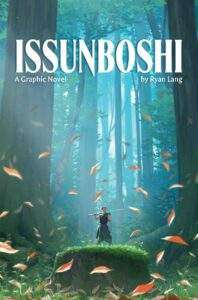 Issunboshi HC
ONI, $34.99
Written and drawn by Ryan Lang
Solict: In a feudal Japan where creatures of myth and folklore are real, a demon sets out to reforge an ancient weapon to take over the world. The only person who can stop him is an inches-tall would-be samurai, who also happens to be the final and most important piece of the weapon. Issunboshi: A Graphic Novel is a lush retelling of the classic Japanese folktale reminding us that one is not born a hero-you must discover the courage to become one.
---
This Episode's Soundtrack:
All music in this episode is 100% free-use, royalty-free, or used with the express permission of the artist and or label, and all of those other fun words that mean we didn't infringe on any copyrights!
---
Don't forget about our companion show, THN COVER TO COVER! You can watch the broadcast live on our Facebook page Saturdays at 10:30 AM Central central time, but if you want to chat or talk to us live join our Discord for more info! If you can't be there live leave us a message at 402-819-4894, use our Contact THN link 0r shoot us an mp3 to [email protected].
If you like what you heard, please consider donating! THN is a listener-supported podcast that we aim to keep ad-free and without your support, we don't have a show. You can become a Patron where you'll hear all kinds of Patreon-exclusive content or just make a one-time donation via Paypal because you're a comic-nerd of the highest quality!
Need more THN? Head over to the THN Facebook Fan Page and check out our YouTube channel for extra content you can't find in the show!
Excelsior!