Podcast: Download
Subscribe: Apple Podcasts | Google Podcasts | Spotify | Amazon Music | Android | Blubrry | Podchaser | TuneIn | RSS | More
It's time for Back Issue Comic Reviews from the Cosmic Longbox!
In this episode…
The DC Universe Infinite app recently added a new Ultra-level membership and with it access to an even larger library of back issue comics from the DCU including the nearly-complete Vertigo library. So naturally, Joe and Matt broke out their black hair dye and white makeup to harken back to their gothy roots when they read comics that were too edgy and British for superhero nerds. The Cosmic Longbox has locked the Nerds in the Vertigo Vault and chosen EIGHT classic comics they missed as angsty kids. As usual, the THN boys will be using their "Buy It," "Skim It," or "Leave It" rating system, which isn't the best but who cares? THEY NEVER ASKED TO BE BORN! *Door Slam – Sisters of Mercy starts playing loudly*
---
Back Issue Reviews: 
Matt:
---
Must Read Picks for Next Week!
Matt's Pick: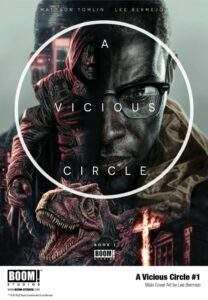 A Vicious Circle #1
Boom Studios, $3.99
Written by Mattison Tomlin
Art by Lee Bremejo
Solict/Setup: Director, screenwriter, one of the visionaries behind The Batman, and Project Power creator Mattson Tomlin teams up with iconic artist Lee Bermejo (Batman: Damned, Joker)! Shawn Thacker is a trained assassin from the future who seeks revenge on the only other man with his affliction-each life they take forces them both to travel between vastly different past and future eras. Spanning from 22nd century Tokyo to 1950s New Orleans to the Cretaceous Era and beyond, the two mortal rivals are locked in a battle of wills that spans millions of years, all to alter the course of history. With each time period, artist Lee Bermejo adjusts his artistic style to pay homage to luminary comics artists and historical master painters, presented in a prestige, oversized format!
Joe's Pick: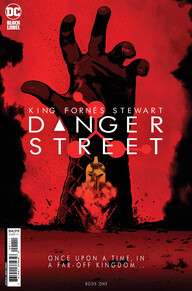 Danger Street #1
DC Comics, $4.99
Written by Tom King
Art by Jorge Fornes
Solict: Joining the Justice League is a goal for any superhero, but what happens when a quest for membership takes a sinister turn? Join Starman, Metamorpho, and Warlord as they look to prove themselves worthy by summoning and defeating Darkseid in battle. Soon they'll learn that calling upon a New God never ends well, and their world is headed for a crisis as a result! The journey to save the day will be a treacherous one filled with princesses, knights, and all kinds of monsters. Each person the heroes encounter plays a crucial role in this sprawling yet gripping narrative that is a little bit silly, a whole lot dark, and completely cool. Expect the unexpected with a supporting cast featuring Manhunter, Lady Cop, the Green Team, and the Creeper! Inspired by the heroes and villains of 1st Issue Special, Tom King and Jorge Fornes (Rorschach) return for an unforgettable maxiseries that reimagines the characters and their stories. A multicharacter, multilayered crime drama starring some of DC's most obscure creations: no one will see it coming, but everyone will want to see where it goes!
Trade/Graphic Novel Pick: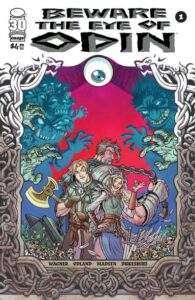 Beware the Eye of Odin TPB
Image Comics, $16.99
Written by Doug Wagner
Art by Tim Odland and Michelle Madsen
Solict/Setup: Helgi, the prince of a Viking village, has stumbled upon the cursed Eye of Odin. If he doesn't return it to its rightful owner by the new moon, he will die an agonizing death of boils and decay. By his side are Stigr, a one-armed warrior past his prime, and Kadlin, a female warrior convinced she's a Valkyrie. Their only path will take them through the treacherous lands of the Hundrafolk, Trolls, and Earthen Smiths. Collects BEWARE THE EYE OF ODIN #1-4
---
This Episode's Soundtrack:
All music in this episode is 100% free-use, royalty-free, or used with the express permission of the artist and or label, and all of those other fun words which mean we didn't infringe on any copyrights!
---
Don't forget about our companion show, THN COVER TO COVER! You can watch the broadcast live on our Facebook page Saturdays at 10:30 AM Central central time, but if you want to chat or talk to us live join our Discord for more info! If you can't be there live leave us a message at 402-819-4894, use our Contact THN link 0r shoot us an mp3 to [email protected].
If you like what you heard, please consider donating! THN is a listener-supported podcast that we aim to keep ad-free and without your support, we don't have a show. You can become a Patron where you'll hear all kinds of Patreon-exclusive content or just make a one-time donation via Paypal because you're a comic-nerd of the highest quality!
Need more THN? Head over to the THN Facebook Fan Page and check out our YouTube channel for extra content you can't find in the show!
Excelsior!