It's the LUDICROUS SPEED ROUND: New Comic Book Reviews 1/25/23! We're back with new comic reviews for the week of January 25th! We read way more comics than we have time to talk about on the show so the rest end up here. If you're a long-time-listenerd, you probably remember our short reviews accompanied by glorious power metal. Now you can supply your own soundtrack and relive the magic as we review and rate these comics on our patented "Buy it", "Skim it" or "Leave it" scale. We'll be sure to update this post as we read more of the week's new comics so be sure to check back. But enough talk!
LUDICROUS SPEED…GO!
Matt's Reviews: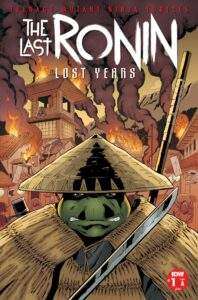 Teenage Mutant Ninja Turtles: The Last Ronin: Lost Years #1
IDW, $4.99
Written by: Kevin Eastman and Tom Waltz
Art by: Ben Bishop
Solict: In the smash-hit miniseries TMNT: The Last Ronin, readers witnessed the final gut-wrenching days of the Heroes in a Half Shell. For Michelangelo in particular, the march to his heartbreaking last battle was long and dangerous, taking him from New York City, to Japan, across Asia and Europe, and then back home again to administer final justice against those guilty of killing his family. But what happened during those fateful years when he had only the need for vengeance and Master Splinter's journal to guide him? What battles did he fight? What hard lessons did he learn? The time has come to find out as original miniseries writers Kevin Eastman and Tom Waltz join artist Ben Bishop to reveal what adventures the Last Ronin experienced during his vengeful journey. While in the present, a new master, Casey Marie Jones, prepares her young terrapin students to be the next generation of Teenage Mutant Ninja Turtles!
Review: I was a huge fan of the first Last Ronin storyline so I was excited to see how Mikey got to his final suicide run. This time Laird isn't here and maybe that's what's missing but I didn't get the same charge for this first issue. It just kind of feels like a prequel telling a fairly straightforward journey for Michelangelo.
Bishop's art is strong and there are some of the same emotional moments but nothing that really landed as well as the first issue of the last mini. Maybe the magic has come off a bit now that we know which turtle this is and where the story goes and maybe there are some surprises coming but for now, outside of moving the story of the next generation of turtles story forward there wasn't a whole lot to get excited about just yet. I trust this creative team and maybe the new big bad introduced will turn out to be more than a vehicle for Mikey's vengeance but so far it's lacking the same intensity and stakes of the first mini.
Rating: SKIM IT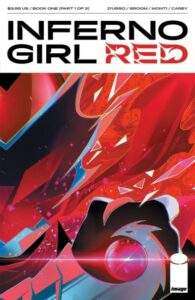 Inferno Girl Red #1
Image, $5.99
Written by: Erica D'Urso and Matt Groom
Art by: Erica D'Urso and colors by Igor Monti
Solict: MINISERIES PREMIERE! A new school, new relationships, new possibilities—for any teenager, big moves are both challenging and exciting. But it's a whole other thing for Cássia Costa…because an ancient cult and their army of demons have ripped her new home of Apex City out of our universe and cast it into darkness! To have any hope of saving it, Cássia must survive the worst night of her life, embrace a secret legacy, and find the courage to fight when all seems lost—as the blazing light of hope in the dark, Inferno Girl Red! From creators ERICA D'URSO (The Mighty Valkyries) and MAT GROOM (SELF / MADE, Ultraman), the saga of the newest Image Comics superhero begins here! INFERNO GIRL RED is a Massive-Verse series.
Review: Kyle Higgins Massive verse continues to grow and thrive at Image with what seems like a new character and book every couple of months. Once again a very likable young person inherits a suit with powers although this time it seems like a legacy story. The creative team does a great job fleshing out Cassia and her mother and subtly hinting at Inferno Girl Red's legacy. 
D'Urso and Monti's art jump off the page. There's some excellent design and color work with cape effects and some very creepy anime/manga-inspired monsters. I loved the splash page where we first see Cassia in full costume. 
Like most of the Massive verse books Inferno Girl Red unabashedly wears its Power Rangers inspiration on its sleeve but it also works. This is probably geared toward a younger audience but I found it entertaining and the artwork was excellent. 
Rating: BUY IT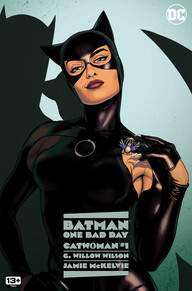 Batman: One Bad Day: Catwoman
DC, $7.99
Written by: G. Willow Wilson
Art by: Jaime McKelvie
Solict: Selina Kyle, a.k.a. Catwoman, is the greatest thief that Gotham City has ever seen. She's effortlessly stolen countless items of immense value over the years and successfully evaded the GCPD and Batman. But when Catwoman finds out an item from her past is being sold for way more than it used to be worth, it sends Catwoman into a spiral, and she'll do everything in her power to steal it back. Batman tries to stop her before she goes too far, and a mysterious figure known as the Forger will change Catwoman's life forever. The all-star creative team of G. WILLOW WILSON (Poison Ivy, Ms. Marvel) and JAMIE McKELVIE (The Wicked & The Divine, Young Avengers) unite for this epic story!
Review: While the other One Bad Day stories have been character-redefining stories that set each villain on some type of updated path Wilson's story seems to literally just be a bad day for Selina that introduces a new villain.
Coming from the recent Bane and Mr. Freeze OBD one-shots I expected a little more emotional payoff but instead, we get a peek of Selina's softer side and some more Bat Cat romance that left me wincing.
McKelvie's art is great and he does an excellent job illustrating Selina's acrobatics but Wilson's story doesn't set him up for a lot of action or even a well-dressed villain. This felt like an extended Catwoman issue introducing a new villain that, while mysterious, I didn't find very compelling. The Bat and Cat romance stuff didn't help much either and I had hoped with the end of Tom King's Bat-Cat story we're done with that for now. 
Rating: SKIM IT
---
Don't forget about our review shows and THN COVER TO COVER! You can watch the broadcast live on Facebook page Saturdays at 10:30 AM Central central time. But if you want to talk to us live join our Discord for more info! If you can't be there live leave us a message at 402-819-4894, use our Contact THN link 0r shoot an mp3 to [email protected] and we'll play it on the show!
Need more THN? Head over to the THN Facebook Fan Page and check out our YouTube channel for extra content you can't find in the show!

Excelsior!!!!