It's THN'S LUDICROUS SPEED ROUND: New Comic Book Reviews 2/15/23! We read way more comics than we have time to talk about on the show so the rest end up here. If you're a long-time-listenerd, you probably remember our short reviews accompanied by glorious power metal. Now you can supply your own soundtrack and relive the magic as we review and rate these comics on our patented "Buy it", "Skim it" or "Leave it" scale. We'll be sure to update this post as we read more of the week's new comics so be sure to check back. But enough talk!
LUDICROUS SPEED…GO!
Matt's Reviews: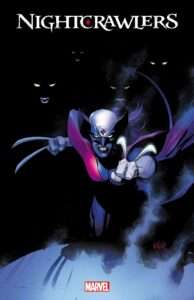 Nightcrawlers #1
Marvel Comics
Written by: Si Spurrier
Art by: Paco Medina
Solict: SINISTER'S PRIVATE ASSASSINS! Ten years into a twisted future, MR SINISTER unleashes his private army of assassins: THE LEGION OF THE NIGHT. Meet WAGNERINE, commanding this killer crew of brainwashed hybrids, each one a genetic mix of NIGHTCRAWLER and another one of Marvel's most murderous mutants! Mysterious forces seek to break Sinister's control over these fatal fanatics – to turn them AGAINST HIM. But who are they? And what are their true motives…? Enter MOTHER RIGHTEOUS… and a meeting of the most powerful players in the Universe…
Review: If you thought shit got weird in the first couple of chapters of Sins of the Sinister, wait till you read chapter 3 where shit gets weird. One of my favorite X-schticks is when we get weird alternate versions of our favorite X-peeps – AoA and Exiles for example – and now we finally get a look at why Nightcrawler was wearing the Spidey suit in that Timeless preview featuring Kang almost kinda peaking at Marvel's 2023 titles.
Spurrier is having fun with these characters and the Nightcrawler mix-ups aren't even the best mashup characters here. Medina is outstanding as usual and gets to draw plenty of action here. I don't know if he's responsible for the character designs but if so, he's created a fantastic group of Nightcrawler killers and personally I love what he did with Banshee's stripes.
If you have to pick one event where heroes and villains suddenly see their powers and personalities change, I'd skip Lazarus Planet and go with Sins of Sinister.
Rating: BUY IT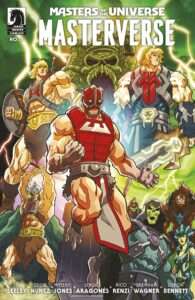 Masters of the Universe: Masterverse #1 
Dark Horse
Written by: Tim Seeley
Art by: Eddie Nunez, Kelly Jones, and Sergio Aragones
Solict: In the depths of Castle Grayskull, the Sorceress and Zodac debate the value of He-Man. To save the life of her champion, the Sorceress must take the Cosmic Enforcer on a tour of the multiverse! First, a tour across a world where a dim, barbaric He-Man bumbles through a world of annoying warrior goddesses and bored demons as he's pursued by a hungry green tiger in a tale drawn by the legendary Sergio Aragonés! Then, a stop in an Eternia where the power of Grayskull summons an entirely different warrior in a horrific ghost story illustrated by Kelley Jones! Written by MOTU alumni Tim Seeley (Injustice vs. Masters of the Universe, Masters of the Multiverse) with a framing story by Eddie Nunez, this is an anthology series not to be missed!
Review: It seems no IP is safe from multiversal storytelling, but as long as they keep lining up artists this good, I'm on board for more. Full disclosure: I'm a huge MOTU nerd, so everytime a new comic hits the stands, I hope it's going to be something I can enjoy monthly. The setup is pretty typical: the Sorceress and Zodak are studying other universes, giving us a glimpse of Kelly Jones' scary version of He-Man. I don't know if it's Jones or Seeley but there are some deep cut MOTU villains that I love in this first story, and Seeley is perfect for this darker take.
The Aragones story is silly of course, but what else would you expect from the legendary Groo creator? If you get Aragones appeal you'll have plenty fun with the second story but I can't say it comes off as metaversal as the first.
MOTU Masterverse is a fun idea and I'd love to see more art teams like this get a shot at He-man and the gang. Next up is E.J. Su and Victor Santos, so I'll certainly be picking up issue #2.
Rating: BUY IT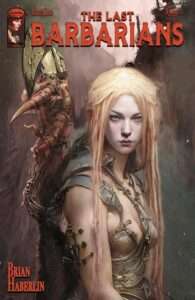 The Last Barbarians #1
Image Comics
Written by Brian Haberlin and Hannah Wall
Art by Brian Haberlin
Solict: To be Classless is a whole new low… You'd think in a fantastic world full of giants magic and flying fish it would be a world of possibility. But you'd be dead wrong here! Sylv is a jack of all trades; she can fight with the best of them pick most pockets and even cast a third-level spell or two. It's too bad for her that if you aren't a member of a guild you are persona non grata: completely outcast from adventuring. That might be fine except she has her disabled seven-foot-tall brother to take care of. If she can't find a job to support them both they'll be dead in a ditch in a matter of weeks. So now her only hope is a quest from a sketchy cleric who promises only a true hero can save the day. Sylv has a lot of skills…and she'll need them all to survive this hero's journey!
Review: Hellcop creator Brian Haberlin is back with a D20-inspired fantasy story with a feisty and likable main character, but the story spends a lot of time narrating what's going on rather than using Sylv, short for Sylver, do much talking. There is plenty of dialogue here and it's fine, but the writers made a decision to narrate a lot of the action in almost voiceover style. It's a little jarring and slows the pace of the story down.
Haberlin is a very talented artist, but there are a lot of digitally affected backgrounds which makes it look like he drew about 50% of the book and dropped his characters on top of the scene. Even some of the fantasy creatures look like Photoshop mashups. 
There is some kind of guild system in the story and they tend to look for singularly-talented individuals, but Sylv seems to have trouble focusing and therefore has been labled a barbarian. I guess? They never really get into what the title means and spend a little too much time exploring Sylv's snarky attitude. She even makes a remark about wanting to tell the reader about why her giant brother is so dumb but never gets around to it. When the setup for the next issue did it, it was a little too late and I had already checked out. 
There's nothing inherently flawed with The Last Barbarian, but the heavily digitalized art and over-narrated story never hooked me, and it seemed to trust that readers would just like Sylv enough to come back for more. 
Rating: SKIM IT
Joe's Reviews: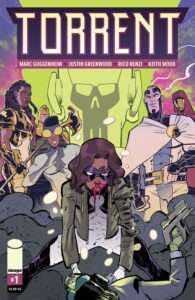 Torrent #1
Image Comics
Written by Mark Guggenheim
Art by Justin Greenwood
Solict: From MARC GUGGENHEIM (Arrow, X-Men Gold, Star Wars: Revelations) and JUSTIN GREENWOOD (THE OLD GUARD: TALES THROUGH TIME, Future State: Gotham), the team who brought you the critically acclaimed series Resurrection, comes a brand-new superhero universe. Michelle Metcalf is the world's most happy-go-lucky hero, CRACKERJACK, until tragedy forces her to cross the line from hero to vigilante.
At first glance, Torrent #1 looks like it might be the start of a fun, Noble Causes or Invincible-esque superhero story. Unfortunately, the solicit and the opening pages dispel that notion completely. Instead, what we get is a joyless slog that hits every hero-turned-revenge-crazed-vigilante trope as hard as it can. Most of the characters, especially the lead, are completely unlikable, and Guggenheim just quips his way through an uninspired script. Justin Greenwood's art is weird, but in a way I kind of like. It's a looser style with exaggerated forms, like a mashup of Rick Leonardi and Tom Fowler. I really don't have too much more to say about Torrent #1, other than that it's a predictable, miserable mess. I hope to see Greenwood on future projects, but I won't be continuing with this one.
Rating: LEAVE IT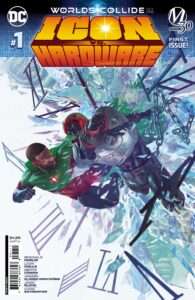 Icon Vs. Hardware #1
DC Comics
Written by Reginald Hudlin and Leon Chills
Art by Denys Cowan and Yasmin Florez Montanez
Solict: Two titans of the Milestone Universe clash – and in the process, set in motion a chain of events leading to a story bigger than you could ever imagine! When Hardware discovers a long-suppressed time machine hidden in a government warehouse, his obsession with righting the wrongs of the past – those of both American history and his own tragic family – will unravel the fabric of time for the Milestone Universe. But while there are many problems with Hardware's plan, there's one big one: wherever he goes in America's last two centuries, Icon is there, having lived through it! And a man as powerful as Icon knows the profound danger of the forces Curtis Metcalf is unleashing…and he'll do whatever it takes to put the genie back in the bottle! Icon Vs Hardware is the official kickoff of Act One of Milestone's WORLDS COLLIDE event – and if you think you know what that phrase means, you'd better not get overconfident! This is the ideal jumping-on point for those who've sat out the story of Dakota so far, because this ride is headed somewhere unexpected!
Review: Like with Matt's recent Static review, we have apparently decided to wade back into the Milestone pool with the second "season." I appreciated the lengthy recap page explaining the events of the previous adventures of both characters. However, that didn't stop me from being completely lost most of the time. Characters come in and out of the story without explanation, sometimes without even being named. Rocket is wrapped up in a Mean Girls subplot completely disconnected from the main narrative, Icon has absolutely nothing to do, and Hardware engages in the most irresponsible use of time travel since Hot Tub Time Machine. The art by Denys Cowan is fantastic, but the Rocket portions by Montanez didn't work as well for me. There isn't anything about Icon Vs. Hardware #1 that's inherently bad, but I didn't love the art in half the issue and found the plot borderline impenetrable. But since I didn't read any of Season One, I have to assume that exiting fans will know the score.
Rating: SKIM IT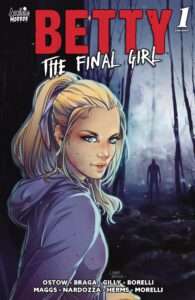 Chilling Adventures Presents…Betty the Final Girl One-Shot
Archie Comics
Written by Micol Ostow, Casey Gilly, and Sam Maggs
Art by Laura Braga, Carola Borelli, and Natalie Nardozza
Solict: Veronica has invited Betty to her luxurious mountaintop chalet for a cozy weekend of skiing. But their girls' weekend is interrupted when Archie shows up and whisks Veronica off on their own snowy romantic adventure. What could go wrong at a fancy remote cabin in the mountains all by herself? Betty's mind races and she can't tell fact from fiction as she suddenly realizes she might not be so alone. Is Betty believing too much in the horror movies she's watched, or is someone (or something) really out to get her? Find out in this BRAND NEW horror anthology one-shot that's equal parts Scream and When a Stranger Calls.
Betty the Final Girl is a fun little anthology with some PG-13 scares homaging classic slasher pics like Scream and You're Next with a twist, like one character's passion being true crime podcasts instead of scary movies. The three stories all have a different feel that's well executed by their creative teams. The last story has some storytelling issues that confused me, but the art throughout the issue is pretty great. Betty the Final Girl is a light, fun read that's a little closer to Goosebumps than it is to the stories that inspired it.
Rating: STRONG SKIM IT
---
Don't forget about our review shows and THN COVER TO COVER! You can watch the broadcast live on Facebook page Saturdays at 10:30 AM Central central time. But if you want to talk to us live join our Discord for more info! If you can't be there live leave us a message at 402-819-4894, use our Contact THN link 0r shoot an mp3 to [email protected] and we'll play it on the show!
Need more THN? Head over to the THN Facebook Fan Page and check out our YouTube channel for extra content you can't find in the show!

Excelsior!!!!