New Comic Book Reviews from the THN Editoral Staff (it's a thing now!)
THN is proud to present new comic book reviews from brand new staff writer Brian Domingos for this special edition of the LUDICROUS SPEED ROUND!!! As a long-time Love Slave, Brian will be using our "Buy it", "Skim it" or "Leave it" scale, which he agrees isn't the most helpful, but he doesn't want to go back to his kennel without dinner, does he?
LUDICROUS SPEED…GO!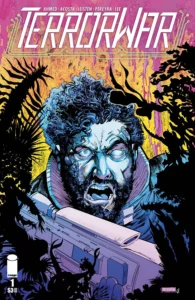 TERRORWAR #1
Image Comics
Written by: Saladin Ahmed
Art by: Dave Acosta, Jay Leisten and Walter Pereyra
Solict: Eisner-winning writer SALADIN AHMED (Miles Morales) and superstar horror artist DAVE ACOSTA (Elvira) make their Image debut with this sci-fi horror series about working people fighting mind-bending monsters. Blue City was the last livable place on Earth. Now it's crawling with Terrors-creatures that transform into their victims' worst fears. Humanity's last hope? Muhammad Cho and his overworked, underpaid crew of freelance Terrorfighters. "We're not heroes-we're contractors."
Review: Out of the gate, Ahmed, Acosta Leisten and Pereyra nail the future dystopia look of the Blue City. It reminded me of The City from TRANSMETROPOLITAN – people trying to live their lives in the gritty grime of ill-fitting future tech. The script features the lead, Mohammad Cho, narrating his life and doing the heavy lifting of establishing the whys and whos of this world: people are haunted by "terrors" – metaphysical manifestations of a person's greatest fear that burn with their touch – and Cho's team, a group of terrorfighters, that act to terror-bust the creatures. The team is loaded with a bunch of familiar ciphers – the leader on unsure footing, the impatient operator, the timid tech guy, the sassy security chick, and the overly verbose medical expert. Ahmed has given a lot of thought about the world and its requirements – complete with a vague and terrifying memory of Cho's "The Credit Hounds!" – but it all feels a little empty. The team borders on cliches and the "what do you mean we aren't getting paid for this??" moment has we've-seen-this-before Ghostbuster vibe. Acosta and Leisten's characters are distinct but have some uninteresting uniforms. Their art style is reminiscent of classic GREEN LANTERN artist Darryl Banks with some John McCrea gross-out in there. Colorist Walter Pereyra has the Terrors explode in kaleidoscopic sprays of pink and green. The final page sets up the ongoing conflict of Cho's team versus the competition, but I don't think there's enough here to get me to come back.
Rating: SKIM IT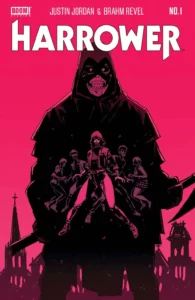 HARROWER #1
BOOM! Studios
Written by: Justin Jordan
Art by: Brahm Revel
Solict: There's nothing to fear in the quaint town of Harrow, New York-except, that is, for the Harrower. The children wish this boogeyman was just an urban legend, but this purveyor of puritanical vengeance against the unrighteous is very real, and there's no escape, because the Harrower seems unkillable, and spans generations, always returning… What secrets will Alice Young, a teenage girl obsessed with the Harrower, uncover, and will she be able to escape the pull of her morbid fixation? This deconstruction of the slasher genre is the fresh and terrifyingly grounded take is perfect for fans of Bone Orchard and The Closet!
Review: Cool cover and nice art on a quick skim. The story starts with a murder and moves to a morose teen melodrama. By the end, you realize you're in a slasher story and oh no, things are going to get bad. Writer Justin Jordan is no stranger to gross out-gore (see SPREAD and LUTHOR STRODE for more) so I should have seen that coming, but it's the quiet moments of individuality these characters have that get us into the world. Artist Brahm Revel worked as a storyboard artist for THE VENTURE BROS before his deadly grim comic series GUERILLAS and those chops are on full display here. It's side-glances and unspoken words that tell us who these characters are. Of course, not everyone is being honest, so the subtext is complex. There's a Javier Pulido-like starkness to the figures which makes the few lines Revel does use even more impressive. The few moments of action are fluid and lead the readers' eyes across the page. It's not my type of comic – the horror type – but with HARROWER, Jordan and Revel have added some iconic and shocking moments to the comic shelves.
Rating: BUY IT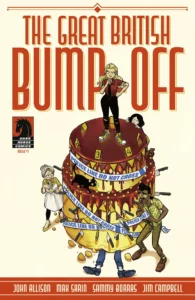 THE GREAT BRITISH BUMP OFF #1
Dark Horse Comics
Written by: John Allison
Art by: Max Sarin and Sammy Borras
Solict: An Agatha Christie-style murder mystery set in the world of English competitive baking from Giant Days' John Allison and Max Sarin. When she enters her country's most beloved baking competition, Shauna Wickle's goal is to delight the judges, charm the nation, and make a few friends along the way. But when a fellow contestant is poisoned, it falls to her to apprehend the culprit while avoiding premature elimination from the UK Bakery Tent… and being the poisoner's next victim!
Review: John Allison – instant buy. Spoilers, it's a BUY IT. Allison and Max Sarin did 40+ issues of the brilliant GIANT DAYS together so it's going to be good. What I didn't realize was that this is another "Bobbinsverse" book that stars Shauna Wickle, she of the fabulous BAD MACHINERY series. Shauna and her friends were (pre-)teen detectives and when a fellow competitive cast member of her white tent-based baking show is killed, she kicks into gear to solve it… all while trying to win the show's top prize. Allison is well known for his cutting satire, and this sticks its tongue firmly in the cheek of everyone's favorite stuffy British bakers. The cast of contestants still needs to be explored but he's got three more issues to put into it. Max Sarin's art is as funny and expressive as ever. They have the task of giving each character personality while also telling a complex murder mystery. So far, so good.

Rating: BUY IT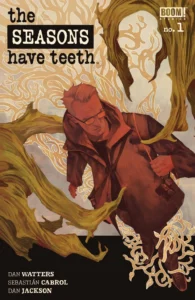 THE SEASONS HAVE TEETH #1
BOOM! Studios
Written by: Dan Watters
Art by: Sebastian Cabrol and Dan Jackson
Solict: In a drab, colorless world, the seasons bring change… and also destruction. Andrew, a retired conflict photographer, lives a life steeped in regret after an unthinkable tragedy, but everything shifts when the seasons arrive-each one a personified, god-like creature. As he risks everything to track down Spring, Summer, AutumnFall, and Winter, will capturing the perfect picture of each be enough to find redemption… and ultimately bring color back to his world? Dan Watters of Sword of Azrael and Home Sick Pilots writing acclaim is joined by artist Sebastian Cabrol (Anthony Bourdain's Hungry Ghosts, Maestro: World War M) for a tale that is both down to earth and supernaturally apocalyptic in its pertinence.
Review: "Spring is on its way" and everyone is evacuating – except for Andrew Bates, a retired photojournalist. He decides to stick around and see what happens. "Spring" is implied to be some sort of force – a hurricane or storm – when, in actuality, it is something much more menacing. The reveal is in a breathless double-page spread by Sebastian Cabrol and colorist Dan Jackson. It's stunning and confounding and Bates gets to speak for us. Some books are just a vibe. THE SEASONS HAVE TEETH is just a vibe. It's longing and regret all wrapped up in dread and I think Watters and Cabrol are just getting started.
Rating: BUY IT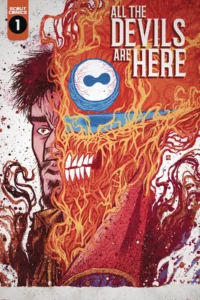 ALL THE DEVILS ARE HERE #1
Scout Comics
Written by: Jarred Lujan
Art by: Matt Harding and Warnia Sahadewa
Solict: Joe is an elderly dementia patient that becomes possessed by a powerful demon. In order to save him, an unconventional and mysterious exorcist, JC Garcia, must venture into his mind. Once inside, he finds far more than he bargained for: an ever-changing hellscape created by a fusion of Morris's and the demon's memories that brings JC face-to-face with his own traumatic past. ALL THE DEVILS ARE HERE reinvents the exorcism story with a unique, emotional tale about the power of love, loss, and memory.
Review: I was immediately sucked in by the cover by Marco Fontanilli with its textured colors and miasma of brimstone and spirals of soot. It's unfortunately as good as it gets. The interior artwork lacks a professional polish with simplistic figures that stumble against the darker script. Almost the entirety of the story takes place during the exorcism mentioned in the solict with "JC" traversing through the possessed mind, encountering the memories of both the victim and the demon. The script is peppered with extraneous colored captions of the demons that also inhabit JC but it doesn't do a lot to help the story along. The intent is to show that JC has some secret demonic knowledge and therefore is a formidable foe for the creatures that would do the possession but at no point does it seem to make much of a difference. Through all of this, JC manages to save the victim and exercise his own emotional demons but it's not a particularly compelling story. This is a one-shot story – 44 pages in all – so it wraps up inside these covers. The main demon had an interesting design but that was the extent of my interest in this. I don't think I'll be checking out the next JC Garcia story.
Rating: LEAVE IT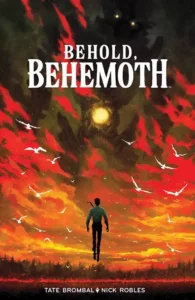 BEHOLD, BEHEMOTH #1
BOOM! Studios
Written by: Tate Brombal
Art by: Nick Robles
Solict: House of Slaughter's Tate Brombal brings his first original series to BOOM! Studios alongside red hot artist Nick Robles (The Dreaming: Waking Hours). Greyson's world is crumbling following his brother's sudden and mysterious death… His sleepless nights are haunted by vivid nightmares of a terrifying monster, pushing him to the brink of losing both his sanity and his job as a social worker. But he's truly shaken to the core when his newest case-a young orphaned girl named Wren-is found at the scene of a brutal murder, just hours after first meeting Greyson. The line between nightmare and waking life blurs as Greyson soon discovers that the monster from his dreams might just be real-a mythical, ancient beast that is bringing about the end of the world, with shocking connections to both him and Wren…
Review: I don't know Tate Brombal's writing but I liked Nick Roble's work on THE DREAMING so I was eager to check this out. Starting with Roble's stark matte, I loved the art from the jump. He has clean, well-rendered figures with a subtle color palette and thick white panel borders. Brombal's script has the lead, Greyson, a young social-worker grapple with the raw, fresh grief of his protective brother's recent death and a chronic case of hallucinations or waking dreams. Greyson is never on two firm feet, stumbling through a yellow, blue and gray reality and Robles uses bold reds for the dissociative dreamscapes. Greyson's new work case is a young girl named Wren whom keeps finding herself at the center of horribly gruesome scenes. It's intense and gripping and stunningly beautiful. I need to see more of this.
---
NEED MORE THN?
Check out our review show (also in this podcast feed!) where we alternate between back issues and new comics! You can also join us for the THN Cover to Cover Cover Gang Hang on Saturdays at 11:00AM Central. Check out our Discord for details. Head over to the THN Facebook Fan Page and check out our YouTube channel for extra content you can't find in the show!
WANT TO BE A PART OF THE SHOW?
If you're looking for a new read from the Comic Pushers, have a Hot Take or Ask a Nerd question, or just want to share your thoughts, leave a message on the THN Hotline, or send us an MP3 and we might use it for a segment!
KEEP THE SHOW ALIVE!
If you like what you heard, please consider donating! THN is a listener-supported podcast that we aim to keep ad-free; without your support, we don't have a show. You can become a Patron where you'll hear all kinds of Patreon-exclusive content, or just make a one-time donation via Paypal because you're a comic nerd of the highest quality!

Excelsior!!!!