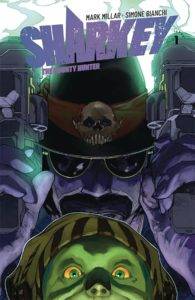 Sharkey the Bounty Hunter #1 Review
Image Comics/Millarworld
Written by Mark Millar
Art by Simone Bianchi
32 pages $3.99
Solicit: MINISERIES PREMIERE
Set in a brilliant new sci-fi universe, Sharkey is a blue-collar bounty hunter who tracks criminals across the galaxy in his converted, rocket-powered ice-cream truck. Aided and abetted by his ten-year-old partner, he's out for the biggest bounty of his career.
Suggested Soundtrack: The Essential Jerry Reed by the man himself Jerry Reed
Let's start off by addressing the galactic bounty hunter in the room. Yes, Sharkey very much reminded me of Lobo and this could have easily been a Lobo story. Space-bounty-hunter-badass with a filthy mouth that likes to drink, gamble, spit, and love up the ladies. Now, there's no space-cycle and no chains so he's not all Lobo and, to be fair, Millar writes Sharkey as a bastich with a heart of gold, unlike the mean jackass Lobo seems to have become in recent years.
One of the main reasons I chose to review this comic was artist Simone Bianchi. I love his work and have for years. Even when he was at his most Bianchi-est, like his X-men work which no one could say was bad, but wow was it weird. Here, Bianchi is more restrained than I think I've ever seen him. Sure we get weird aliens and crazy space cities in loose fluid panels here and there, but this was surprisingly mellow compared to his usual lunacy. I'll go so far as to say this is some of Bianchi's best work and it doesn't hurt that he's channeling Burt Reynolds with Sharkey's character design.
The story isn't anything new – reluctant bounty hunter decides to help a kid after arresting his only relative to reveal he's not as tough as he carries himself – but it was a fun read. There's even a clever take on gender fluidity taken to a whole new level as one of the characters is going through the process of becoming a machine. And I don't mean a robot; she's turning into a truck.
Sharkey reads like Millar and Bianchi having a good time and I'm looking forward to more. The only problem is Burt Reynolds is dead and I don't think anyone else could fill Sharkey's boots in the inevitable Netflix version.
Rating: BUY IT