It's the LUDICROUS SPEED ROUND: New Comic Book Reviews 2/1/23 – 2/8/23! We're back with new comic reviews for the weeks of February 1st and 8th! We read way more comics than we have time to talk about on the show so the rest end up here. If you're a long-time-listenerd, you probably remember our short reviews accompanied by glorious power metal. Now you can supply your own soundtrack and relive the magic as we review and rate these comics on our patented "Buy it", "Skim it" or "Leave it" scale. We'll be sure to update this post as we read more of the week's new comics so be sure to check back. But enough talk!
LUDICROUS SPEED…GO!
Matt's Reviews:
2/1/23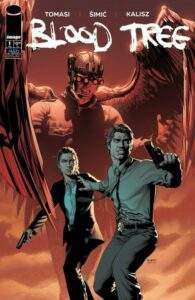 Blood Tree #1,
Image, $3.99
Written by: Peter Tomasi
Art by: Maxim Simic
Solict: SERIES PREMIERE! Two obsessed NYPD detectives hunt for a vicious butcher called the Angel Killer a sociopath who preys on the innocent family members of known murderers in order to "purify" the rest of society. From comics super team PETER J. TOMASI (Batman and Robin Superman Black Adam: The Dark Age Super-Sons Detective Comics) and MAXIM SIMIC (Escape from New York Conan) comes a story that confronts the battle of nature versus nurture considers how present and future generations are tainted by past generations and asks the age-old question: Who must pay for the sins of the fathers-and perhaps even the sins of the mothers?
Review: I've been reading and enjoying Peter Tomasi's superhero work for years now so I can't say I knew what to expect from his latest police procedural comic. It probably shouldn't have shocked me though because he did a great job bringing personality to the Gotham PD during his Detective run.
The story is another killer and hard-nosed cop narrative similar to Silence of the Lambs. We get glimpses of the mysterious killer while the rest of the issue is spent with the lead Detective, Dario, his partner, and his family. Tomasi injects just enough to make all the characters feel authentic and adds some nice little touches like baseball references and dead aquarium fish jokes to make them relatable. The mystery is just beginning to build and there's a nice subplot with Dario being thrust into politics due to the high profile of the murders.
Simic's has a thick-lined cartooning style that makes the cops look deadly serious and brings his vision of NYC to life with minimalist details that again make the comic feel very authentic.
I can't speak to Simic, but this feels like a nice departure for Tomasi and I really like the mystery he's developing with this first issue of Blood Tree.
Rating: BUY IT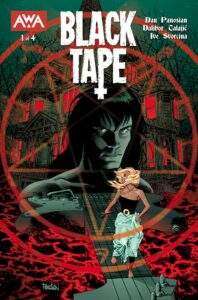 Black Tape #1
AWA, $3.99
Written by: Dan Panosian
Art by: Djalbor Talajic
Solict: Jack King was a rock'n'roll god who projected a stage
persona on par with the devil. After Jack dies on stage, his widow, Cindy, grapples with grief and struggles to protect his legacy, unaware that she is being surrounded by dark forces that covet the master tapes to Jack's final, unreleased album – a heavy metal masterpiece that just might open a doorway to hell.
Review: When I saw Panosian's name on this comic I thought for sure he was the artist but he's joining the double threat list taking on the writing duties for this creepy little book. The story takes a moment to get to the swerve that looks to lead the plot forward but it was a well-thought-out way to introduce us to Cindy and her new station as the lonely widow to a rock legend.
Talajic does an incredible job illustrating a huge cast even taking the time to make the extras that don't have lines look like fully realized characters. There's a very cinematic storyboard feel to his panels and does an amazing job drawing the rock and roll glitz and glamour of Cindy's life while giving the story just enough of a sinister feel when the plot kicks in. Black Tape has the spirit of a cheesy late 80s heavy metal-themed horror movie directed with the eye and pacing of a Stanley Kubrick film.
Rating: BUY IT
Breath of Shadows #1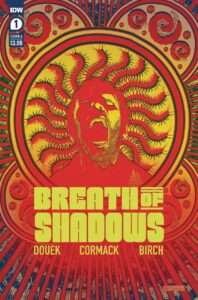 IDW, $3.99
Written by: Rich Douek
Art by: Alex Cormack
Solict: It's the mid-1960s, and Jimmy Meadows should be on top of the world. His band's most recent album just went gold, and they're riding a wave to international fame. But Jimmy is driven by only one thing: where to get his next fix. With his band at the end of their ropes and his life falling apart, Jimmy thinks he may be finished until a friend tells him about a controversial method deep in the jungles of South America that can help him kick his addiction for good. But is clean living actually in Jimmy's future, or will he instead unleash horrors beyond his wildest nightmares? A new expedition into the heart of horror from Rich Douek and Alex Cormack, the team behind Road of Bones and Sea of Sorrows!
Review: Continuing my theme of rock-inspired comics Douek and Cormack return with another high-concept horror story that takes a look at addiction and celebrity that is sure to take a supernatural turn. Douek injects just enough rockstar ego into Jimmy to make him a prototypical self-involved rock star shithead looking for meaning when he's not shooting up that everyone is looking to squeeze a dollar out of.
Cormack continues his streak of well-researched period piece art creating an almost 1960s music documentary look to the story until it delves deep into body horror sure to trigger anyone with an insect phobia. His visual depiction of what addiction feels like is truly terrifying and we haven't even gotten to the horror aspect of the story by the end of issue #1
Rating: BUY IT
2/8/23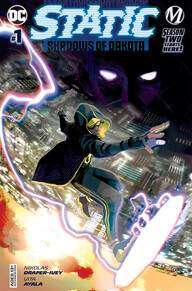 Static: Shadows of Dakota #1
DC, $3.99
Written by: Vita Ayala, Nikolas Draper-Ivey
Art by: Nikolas Draper-Ivey
Solict: Static is back! Though Virgil and his friends might have been able to stop the government's off-the-books prison operations in Dakota, a powerful new threat lurks in the shadows. The mysterious Ebon is cutting a bloody swath through the underworld on a single-minded quest to find his brother. Against this backdrop of exploding violence, innocent people are finding themselves in the crossfire. The breakout creative team of Nikolas Draper-Ivey and Vita Ayala have returned to make Static's life, and Dakota City, very complicated indeed-you've never felt shocks like these!
Review: There's a very good recap on the first page that will bring readers up to speed with Static's current status-quo but even with that I did find myself confused as to what his powers actually are (flying around and grabbing stuff with electricity?). That's a small complaint though and Ayala writes Static as very sweet likable character that's willing to take time to talk to a victim after trauma. It's a nice touch we don't see with a lot of tough-guy characters.
The art here is intense, action-packed and just gorgeous in it's coloring too. Nikolas Draper-Ivey is not a name I'm familiar with but after seeing his explosive-cinematic action scenes and deeply detailed city back-grounds we should all expect to be seeing him more often. His pace and even quieter talking head panels are just excellent.
While not the best jumping on point, and I don't care to ever read the term "bang-baby" again (it's just gross), Season two of Static is off to a great start with an irresistibly likable main character and top-notch art.
Rating: BUY IT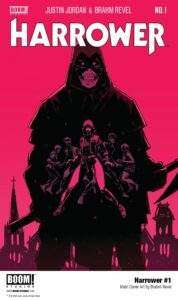 Harrower #1
Boom Studios, $3.99
Written by: Justin Jordan
Art by: Brahm Revel
Solict: A Brand New Small Town Horror Series from the Writer of The Strange Talent of Luther Strode and Spread!
There's nothing to fear in the quaint town of Barlowe, New York–except, that is, for the Harrower. The children wish this boogeyman was just an urban legend, but this purveyor of puritanical vengeance against the unrighteous is very real, and there's no escape, because the Harrower seems unkillable, and spans generations, always returning…
What secrets will Jessa Brink, a teenage girl obsessed with the Harrower, uncover, and will she be able to escape the pull of her morbid fixation?
This deconstruction of the slasher genre from writer Justin Jordan (The Strange Talent of Luther Strode) and artist Brahm Revel (Teenage Mutant Ninja Turtles) is the fresh and terrifyingly grounded take on the slasher genre horror fans have been dying for!
Review: The solicit isn't kidding and this one reads like an 80's slasher flick from page one. Complete with an initial violent killing that not only pulls the reader in but also gives a full reveal of the Harrower character. Not that the creative team is trying to hide their monster, he is on the cover, but as the story progresses it becomes clear the town knows this monster very well. There's sort of a Freddy Kruger vibe to the Harrower's origin but also a twist that will be fleshed out in future issues.
While trying to pin down why I liked the heavy blacks and thick angular penciling work I realized Brahm Revel also drew Guerilla's for Image, a comic about chimpanzees that were trained to fight as soldiers in Vietnam. Revel's art is perfect here but his colors are even better. The comic is very dark but he uses washed out pink and orange backgrounds that switch to pinks and reds when the carnage starts.
Harrower #1 is a bloody love letter to the unstoppable slasher genre that should be perfect on the bookshelf next to other great Boom horror titles like Something is Killing the Children.
Rating: BUY IT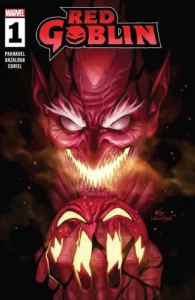 Red Goblin #1
Marvel, $4.99
Written by: Alex Paknadel
Art by: Jan Bazaldua
Solict: THE NEWEST – AND DEADLIEST – RED GOBLIN! SPINNING OUT OF THE PAGES OF VENOM! Normie Osborn receives his own symbiote at last! As a new Red Goblin, will Normie fulfill his destiny as an Osborn – or will he and his symbiote be able to make a difference for the better?
Review: You've probably heard me whining about comics that don't set the reader up with a recap before delving deep into a story. Well, it's not an issue here. The first page resets exactly how Normie got to this point but there's still plenty of Osborne lore here complete with a last page reveal I had to check with Joe on as I had NO CLUE who I was looking at.
There's a lot going on here and I suppose it's more than "more Goblins" and "more symbiotes" of which we have no shortage of either. I did have trouble trying to lock down Normie's age. Paknadel writes him as a snarky 15-16-year-old but Bazaluda draws him like he's 9-10.
That was my only art issue though. Bazaluda is great and I like the design of the Red Goblin but if this creative team wants me to care about a kid that's both another goblin and another symbiote I'm going to need more than this reveal on the last page to get me invested.
Rating: SKIM IT
---
Don't forget about our review shows and THN COVER TO COVER! You can watch the broadcast live on Facebook page Saturdays at 10:30 AM Central central time. But if you want to talk to us live join our Discord for more info! If you can't be there live leave us a message at 402-819-4894, use our Contact THN link 0r shoot an mp3 to [email protected] and we'll play it on the show!
Need more THN? Head over to the THN Facebook Fan Page and check out our YouTube channel for extra content you can't find in the show!

Excelsior!!!!