It's THN'S LUDICROUS SPEED ROUND: New(ish) Comic Book Reviews for 5/10/23 – 5/17/23!
We read way more comics than we have time to talk about on the show so the rest of our new comics book reviews end up here. If you're a long-time-listenerd, you probably remember our short reviews accompanied by glorious power metal. Now you can supply your own soundtrack and relive the magic as we review and rate these comics on our patented "Buy it", "Skim it" or "Leave it" scale. Is it perfect? No. Does it make sense? Not a bit. Is it all we know and are smart enough to understand? ABSOLUTELY.
LUDICROUS SPEED…GO!
Matt's Reviews: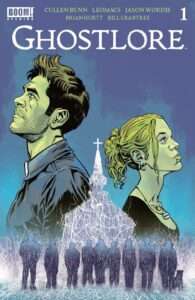 Ghostlore #1
BOOM! Studios
24 pages for $4.99
Written by Cullen Bunn 
Art by Leomacs and Brian Hurtt
Colors by Jason Wordie and Bill Crabtree
Letters by Ed Dukeshire
Solict: We've all heard of ghost stories… but what stories do the ghosts themselves tell us? An estranged daughter and her pastor father wander a haunted land; they only have the restless spirits, each with its own story to tell, as company along the way. After a deadly accident of which they were the only survivors, Lucas and Harmony Agate can see the dead-an overwhelming amount of the deceased, all with their own warnings, cries for help, and malevolence alike. But Lucas and Harmony aren't the only ones with this ability; there are other nearly-deads, some of which have malicious motivations… Cullen Bunn of Basilisk and The Empty Man acclaim is joined by superstar artist Leomacs (Basketful of Heads) and guest artist Brian Hurtt (The Sixth Gun)-the first in a haunting lineup of artists featured in each issue-to bring readers the most eye-opening spectral story since The Sixth Sense! This 12-issue series is the newest BOOM! Studios collaboration with Cullen Bunn, with issue #1 featuring a special Spot UV Ghost Variant!
Cullen Bunn is back with more horror but this time he's trying a different take on the classic comic ghost story. This time the Ghosts tell the story, which means the first part of each issue will be set up by Bunn and Leomacs, followed by a short story told from a ghosts POV with a guest artist. Issue one sets the two main characters and rather than trading on the old horror trope of slowly revealing the tragedy that brought the characters to their current predicament Bunn and Leomacs force the reader to experience that trauma in brutal real-time and to excellent effect. This is not a happy father daughter story but their experience and new shared ability is going to bring them together in ways they never expected. Leomacs and Hurtt are both excellent on art as usual. Leomacs story slowly amps up the supernatural weirdness of the first story with creepy wispy almost blood vessel looking effect crawling into his frames. When the ghosts do show up it's done with a negative version of the same effect and it makes the them truly scary looking. Hurtt's story is a more in his animated style but it's coming from the perspective of a young kid so it works very well. When we do meet the supernatural aspect his visceral horror style really shines. While Ghostlore is an experiment in ghost storytelling this creative team pulls it off perfectly without the formula getting in the way and it looks to be another horror hit in Bunn's spooky repertoire.
Rating: BUY IT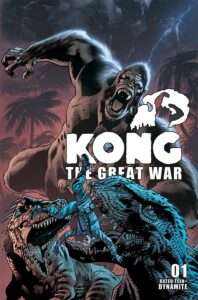 Kong: The Great War #1
Dynamite
24 pgs for $3.99
Written by Alex Cox
Art by Tomasso Bianchi
Colors by James Develin
Letters by Taylor Esposito
Solict: The World at War! While men of all nations fight on foreign shores, an Imperial German U-Boat is lost at sea! The crew now faces terror beyond imagination! Monsters from creation's dawn! Gruesome, blood-stained death from above and below! Impossible beasts, reigning by fear and violence in the South Pacific! And looming over all, the gargantuan ape-god that knows no master! These brave men have faced death before, but now they must contend with…Kong!
This is the first of the Dynamite Kong comics I've picked up since they picked up the license last summer from Boom Studios but the seem to have kept the historical aspects Boom was going for, out side of the Planet of the Apes crossover, of course. Here a tortured WW1 German U boat crew stumbles ip on Skull Island and like many others that vist, things don't go well. Bianchi's art looks great here, his characters are very well researched in their equipment and dress and each looks hard as hell although, their captain's hair cut looks a little modern Goth rock or Shinske Nakamura style for you wrestling nerds out there. Devlin's colors really sell the deserted island in the middle of nowhere feel with deep read sunsets and heavy shadows. The only look at Kong is a fantastic splash page that really captures what I love about this giant Ape. Cox's script follows the Kong formula but he's writing a compelling story about a stranded crew with just enough personality to keep the reading invested and really piling on the dread. If you're a Giant monster fan Kong is your Superman and you're going to love what you read here.
Rating: BUY IT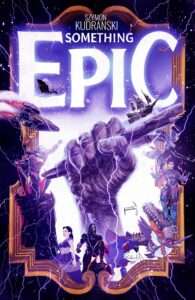 Something Epic #1
Image Comics
28 pages for $3.99
Written and Illustrated by Szymon Kudranski
Translation assistance by Atom Morwill
Letters by DC Hopkins
Solict: SERIES PREMIERE! IMAGINATION IS REAL. Outside our perception, creative thought takes physical form, with only a handful of individuals known as Epics able to interact with this wondrous hidden world. But for fourteen-year-old Danny Dillon, accepting these responsibilities himself won't be easy—or safe. Lose yourself in a world of endless fantasy and creativity, where superheroes, monsters, magical creatures, and cartoon characters live and breathe alongside us. Fan-favorite SPAWN and Punisher artist SZYMON KUDRAŃSKI introduces a world where the only limitation is your imagination. Featuring 32 full pages of story and art for just $3.99!
Szymon Kurdanski steps into double threat territory with his first creator owned book and he's come up with an ingenious story point to show off his multiple art skills. The main character has the ability to look into humanities connected imagination and in doing so he sees every imaginary character humanity has thought up giving Krdranski the chance to illustrate in every style imagninable and draw on characters and stories that obviously influence him. The main story is very photo realistic with a limited color palette but when the imaginary characters show up they glow with color making them pop off the page. Kurdranski's story takes it's time with the main character laying out his past from what seems like an adult version recalling this story and how he met others like him. It's a very compelling mystery with tremendous art I honestly didn't know he was capable of but sometimes the only way to get out of the box editors keep putting you in is creating your comic.
Rating: BUY IT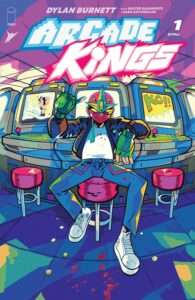 Arcade Kings #1
Image Comics
52 pages for $7.99
Written and illustrated by Dylan Burnett
Colored by Walter Biamonte and Sara Antonellini
Letters by Anworld Design
Solict: MINISERIES PREMIERE!  ROUND ONE: FIGHT! Writer and artist DYLAN BURNETT (Ant-Man, Cosmic Ghost Rider) unveils a new prestige comics series sensation, perfect for fans of INVINCIBLE and MURDER FALCON. Joe, a mysterious new face in Infinity City, has suddenly become the hottest new player at the Round House Arcade. Anyone can challenge him, but no one can win. But Joe's secret past is about to catch up to him when his most formidable challenge yet rolls into town, forcing Joe to combo his powers with a joystick, his fists…and his fighting family legacy! Includes a preview of Robert Kirkman's Void Rivals.
In the back matter Dylan Burnett starts off by saying he thinks video games are PRETTY NEAT which becomes obvious in the first 2 pages of Arcade Kings. The story is Kill Bill meets Scott Pilgrim with cartoonish video game characters both playing video games and having full video game style battles with each other over turf. Burnett's designs are tone perfect and you'll recognize homages to characters in every side scrolling beat em up and player vs player fighter you can think of. The colors are as bright and vivid as any Street Fighter or Streets of Rage game and they lift Burnett's over the top combo infused fight scenes to an even higher level. While it's a quick read and follows the formula of any good fighting game Burnett sets up a compelling Tekken level family drama without taking itself too seriousand the results are a lot of fun. You don't have to be a 6 button joystick owner to appreciate this story but it certainly couldn't hurt.
Rating: BUY IT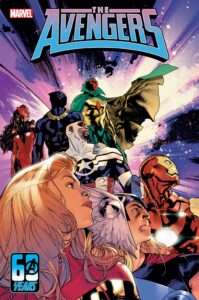 Avengers (2023) #1
Marvel Comics
32 pages for $4.99
Written by Jed MacKay
Art by C.F. Villa
Colors by Frederico Blee
Letters by VC's Cory Pettit
Solict: JED MACKAY AND STORMBREAKER C.F. VILLA TAKE THE REINS OF EARTH'S MIGHTIEST HEROES! The Star. The Icon. The Witch. The Construct. The God. The Engineer. The King. The world is ever in peril, and a new team of Avengers mobilizes to meet any dangers that dare threaten the planet. But when TERMINUS attacks, a new and insidious danger rears its head: one that the Avengers know all too well, and one that comes to them in the most dangerous of guises – that of a friend.
Jed MacKay has been on a incredible trajectory in his last few years at Marvel. His Black Cat, Doctor Strange, and espicially Moon Knight runs have been must read stuff but now he's taking on the Avengers, Marvel's premier super team and he doesn't seem to be worried about following in Jason Aaron's footprints at all. Like his other books MacKay finds a way to inject real humanity into everyone on the team as Caaptain Marvel, the new chairperson assembles her team. Even T'Challa gets to make a joke in very serious Black Panther fashion. And the villain they face isn't another multiversal god mode version of an existing villain, it's Terminus. Good old, giant alien robot terminus but written so well he doesn't need a multiversal upgrade to be a threat. Villa's art is exceptional here in both his talking heads and extreme action scenes like terminus knocking Thor into orbit. This is a very slick package but I will say there is something about Villa's faces that gets a little too cute. Almost chibi at times. All in all, this creative team has heard the fans that grumbled about Aaron's run and brought the Avengers back down to Earth 616 with a team that has a bit more of a classic feel. Even if Vision immediately whining with his first word bubble I have to admit it was cool to see him and Wanda back on the team.
Rating: BUY IT
Joe's Reviews: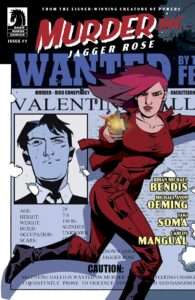 Murder Inc.: Jagger Rose #1 #1
Dark Horse
32 pages for $3.99
Written by Brian Michael Bendis
Art by Michael Avon Oeming
Colors by Taki Soma
Letters by Carlos Mangual
Cover by Oeming and Soma
Solicit: From the creators of the Eisner Award-winning, best selling POWERS comes this brand-new world of historical crime fiction like you've never seen before. Discover a world in which the five families of organized crime never lost their stranglehold on the United States. Now, half the country is a smorgasbord of sex and sin ruled by loyalty and "family values" and the rest of the world looks on in awe, rage, or jealousy. Join us as newly "made" Valentine Gallo and Jagger Rose rise through the ranks of the notorious Bonavese family. No spoilers, but Jagger has already proven herself one of the greatest assassins of all time. And, uh, the Pope would like a word. Yeah, that Pope. Huh.
Bendis and Oeming's Murder Inc. has been running for a while now, but I've never checked it out before now. I try not to penalize something I'm reviewing when I jump in mid-stream, but to call this book impenetrable is an understatement. I love the idea of this bizarre alternate history that they've created, where the united Mafia families essentially took over the United States, changing the face of world politics. But while Bendis does reference past events in an attempt to catch readers up, it wasn't really enough to hook me. The art, on the other hand, is a visual FEAST. I think this is the best I've ever seen Oeming's art look, and it works well with the absolutely incredible colors from Taki Soma. The husband/wife duo combine their talents to create something stronger than the sum of their parts. Murder Inc.: Jagger Rose #1 isn't really a great jumping on point at all, but a compelling premise and outstanding art might make it worth it to check out the series from the beginning.
Rating: SKIM IT
---
NEED MORE THN?
Check out our review show (also in this podcast feed!) where we alternate between back issues and new comics! You can also join us for the THN Cover to Cover Cover Gang Hang on Saturdays at 11:00AM Central. Check out our Discord for details. Head over to the THN Facebook Fan Page and check out our YouTube channel for extra content you can't find in the show!
WANT TO BE A PART OF THE SHOW?
If you're looking for a new read from the Comic Pushers, have a Hot Take or Ask a Nerd question, or just want to share your thoughts, leave a message on the THN Hotline, or send us an MP3 and we might use it for a segment!
KEEP THE SHOW ALIVE!
If you like what you heard, please consider donating! THN is a listener-supported podcast that we aim to keep ad-free; without your support, we don't have a show. You can become a Patron where you'll hear all kinds of Patreon-exclusive content, or just make a one-time donation via Paypal because you're a comic nerd of the highest quality!

Excelsior!!!!