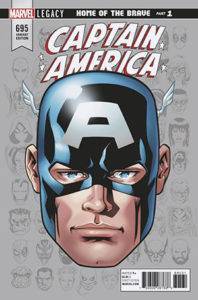 Captain America #695 Review
Marvel Comics
Written by Mark Waid
Art by Chris Samnee
Colors by Matt Wilson
32 pages for $3.99
Solicit: HOME OF THE BRAVE Part 1
HOME OF THE BRAVE begins – and Steve Rogers is back in action in the red-white-and-blue! Steve begins a journey across America to restore his tarnished reputation – and the dangers he encounters along the way are unlike any he's faced before!
Mark Waid and Chris Samnee have the unenviable task of restoring Captain America to some semblance of glory, following the complete shit show that was Secret Empire. Steve's on the road, rediscovering America, and his travels take him to a town he once defended years ago, which has renamed itself in his honor. Now, on the 10th anniversary of that attack, Cap finds out exactly what he means to the people that he defends, as the white supremacist terrorists that attacked the town a decade ago return stronger than ever.
If there's one word I could use to sum up how this issue felt, it would be "timeless." Mark Waid steps back into writing Cap for the third time and it feels like he never left. There's a comforting familiarity to the way he writes this one-shot adventure, but it doesn't feel stale, it feels iconic. Part of that is thanks to the breathtaking work by Chris Samnee and Matt Wilson. I think of Samnee's style as simplified realism. He knows when to simplify or exaggerate his linework and doesn't over render everything and Wilson's warm colors are like a really nice sunset. I just couldn't stop looking at the art.
This feels like a classic issue of Captain America in the best way. With Daredevil, Waid and Samnee flipped Matt Murdock on his head and spun him in an interesting new direction. Here, they take Cap back to his roots to show that all of the things that made him great weren't broken. And now that readers have been reminded, we're invested in Cap's journey to remind the rest of the Marvel Universe.
Captain America #695 was wonderful, and probably the best jumping on point of any Legacy title to date.
Rating: Absolutely BUY IT.
——————
Joe Patrick is the Co-Founder and Co-Host of the Two-Headed Nerd Comic Book Podcast, and the Editor-In-Chief of twoheadednerd.com. If he could have built a career out of correcting Matt Baum's mistakes, he would have left you all behind years ago.