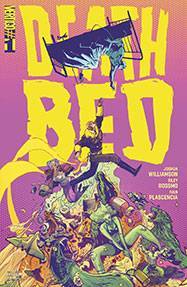 Deathbed #1 Review
Vertigo Comics
Written by Joshua Williamson
Art by Riley Rossmo
32 pages for $3.99
Solicit: Myth, hack, sex symbol, stark raving lunatic-all of these words have been used to describe Antonio Luna, the world's greatest living adventurer. Or at least he was until 20 years ago, when he mysteriously vanished from the public eye. Now the ninety-year-old has returned and claims to be on his deathbed. Which is where Valentine Richards, a failed novelist turned reporter, comes in. Val is hired to travel to Luna's remote castle home and uncover where the old star has been all these years, and just how much of what he says is actually true. But once Val starts to hear Luna's tale, she finds herself entering into an insane world of psychedelic violence and explosive supernatural adventure.
Imagine The Most Interesting Man in the World as naked, monster-fighting nonagenarian and that just about paints a picture of Antonio Luna. Val Richards is a wannabe novelist stuck ghostwriting other people's stories. When Luna hires Val to write his memoir, she reluctantly takes the job and is thrown into an insane world she had no idea even existed. Williamson spends the first half of the book building up the legend of Antonio Luna, through flashbacks and stories Val is told on her way to meet him, but when that moment arrives, what Val finds is a frail, sick man waiting to die, or so she thinks. Then, Williamson flips the script, Luna whips it out – yeah, I mean IT – and the mayhem begins.
I loved the idea that this guy operated in this secret world known only to some. Val hadn't even heard of him when the she got the job. And she seemingly can't even see the encroaching danger hiding in every corner as she meets Luna for the first time. Williamson narrates the issue like a classic pulp novel, which really helps set an atmosphere of adventure.
Deathbed #1 is visually stunning thanks to the some great art by Rossmo and soft colors by Ivan Plasencia. Rossmo's character designs are fantastic – lots of varied shapes giving the characters different, exaggerated silhouettes. It looks tailor made for animation. It also helps keep the first half of the book – which is mostly talking heads – visually interesting.
Deathbed #1 is an example of my favorite type of reading experience: a comic that wasn't really on my radar at all, where I went in completely blind, and ended up being really enjoyable. I think this is going to be a great six-issue run and I'm looking forward to more.
Rating: BUY IT
——————
Joe Patrick is the Co-Founder and Co-Host of the Two-Headed Nerd Comic Book Podcast, and the Editor-In-Chief of twoheadednerd.com. If he could have built a career out of correcting Matt Baum's mistakes, he would have left you all behind years ago.