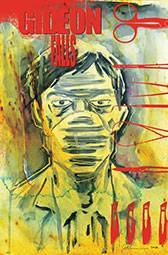 Gideon Falls #1 Review
Image Comics
Written by Jeff Lemire
Art by Andrea Sorrentino
Colors by Dave Stewart
40 pages for $3.99
Solicit: The lives of a reclusive young man obsessed with a conspiracy in the city's trash, and a washed-up Catholic priest arriving in a small town full of dark secrets, become intertwined around the mysterious legend of The Black Barn, an otherworldly building that is alleged to have appeared in both the city and the small town, throughout history, bringing death and madness in its wake.
The man we will eventually come to know as Norton Sinclair is crazy. Or at least people think he is. He's haunted by a connection between the bits of debris he finds around the city to a place that doesn't exist – or shouldn't exist – and it's driving him to the brink of madness. Meanwhile, Father Fred has been assigned to a new parish in the middle of nowhere. Fred is a priest that lost his way and is looking to find the path back. But he soon becomes haunted by a ghost of his own, one that will bind he and Norton together.
Lemire has been working on this story for 20 years. The character that would become Norton and imagery from this issue popped up in some of Lemire's earliest self-published work. According to the back matter, Lemire and Sorrentino have the entire story planned out, and they started planning it together in secret back when they were both exclusive to Marvel. Though we don't learn a great deal about what's happening to these charactes or the true nature of the Black Barn, I still got the sense that there's a detailed road map for this story, and all we need to do is trust these creators to take us along for the ride.
There's a sinister feeling that permeates every page of this issue, thanks to the stunning art by Andrea Sorrentino and colorist Dave Stewart. Sorrentino's black line work is patchy and looks almost incomplete, as though there were parts of the story missing. Stewart uses a muted color palette and reserves flashes of intense red for the most unsettling or surprising moments. It's a beautifully illustrated comic.
Gideon Falls #1 is a very slow start to a dark story full of mystery and dread. We don't learn a lot, but there was just enough there to hook me and bring me back for more. I'm okay with a slow burn if it's executed well and Lemire, Sorrentino, and Stewart are masters.
Rating: BUY IT
——————
Joe Patrick is the Co-Founder and Co-Host of the Two-Headed Nerd Comic Book Podcast, and the Editor-In-Chief of twoheadednerd.com. If he could have built a career out of correcting Matt Baum's mistakes, he would have left you all behind years ago.